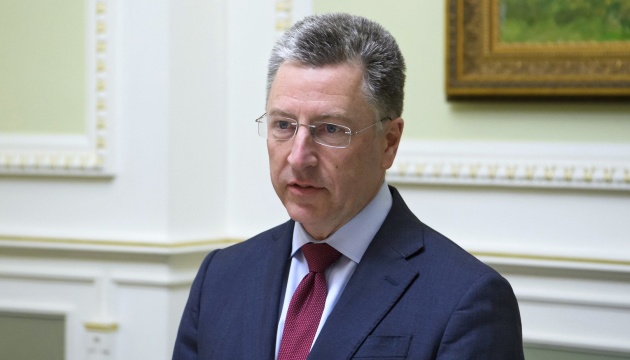 Volker: Ukraine to remain subject of talks between Trump and Putin
The issue of Ukraine, including the need to release Ukrainian sailors and ships seized by Russia, remains on the agenda of US-Russia relations, including of the meeting of Trump and Putin scheduled for next month.
"As everyone remembers, the meeting of presidents Trump and Putin was planned to be held in Argentina last December. It was canceled due to the fact that a week before the appointed date Russia had attacked the Ukrainian fleet, seized ships and jailed sailors, transferring them to the territory of the Russian Federation. So the meeting was canceled, and that was a very good step, I think it was the right one," U.S. Special Representative for Ukraine Negotiations Kurt Volker said during a conference at the Carnegie Endowment for International Peace, an Ukrinform correspondent reports.
Since then, he said, Washington has not ceased to insist on the need to release sailors.
Volker recalled that the International Tribunal for the Law of the Sea had ruled in favor of Ukraine in the corresponding case. "The actions of the Russian Federation in no way correspond to international law, they have no reason to continue to detain the sailors but they still do this," the American diplomat stated.
However, according to him, besides the need for the release of Ukrainian sailors and ships, there are many unsolved problems between the Russian Federation and the United States that need to be discussed: arms (including nuclear weapons) control, the situations in Venezuela, Syria, North Korea, diplomatic confrontation, hostilities in Donbas, the annexation of Crimea.
Therefore, according to Volker, it would be great if Trump and Putin could meet and discuss certain subjects in order to "decide whether there is a chance to settle down the situation a bit, to find ways where we can act constructively."
ol