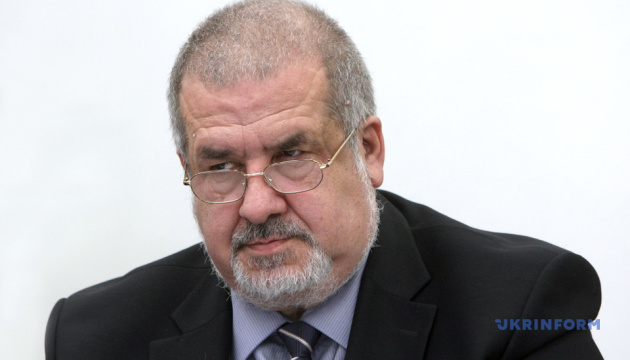 Mejlis chairman Chubarov: Russia consistently implementing concept 'Crimea without Crimean Tatars'
It is necessary not only to be aware of the tragic events of the deportation of indigenous peoples of Crimea but also to prevent their repetition in relation to Crimean Tatars and other peoples.
Chairman of the Mejlis of Crimean Tatar People Refat Chubarov said this in Ankara while participating in the event dedicated to the 75th anniversary of the deportation of the Crimean Tatar people.
"Speaking about the deportation of 1944, we can state that if Russia continues to control Crimea, then Crimean Tatars will have no guarantee regarding their existence. We must proceed from this and work in this direction. We want everyone to remember that non-awareness of the tragic events of the past, in particular of the deportation, contains the risk of repetition, not only in relation to Crimean Tatars but also to any other people," Chubarov said in a commentary to Ukrinform.
Addressing the participants of the event, he recalled that the persecution of Crimean Tatars had been lasting for more than two centuries.
"This event is not separated at all from the history of Crimea and Crimean Tatar people and we must always remember that this was initiated 236 years ago with the first annexation of Crimea by the Russian Empire, and this led to the fact that the overwhelming majority of the Crimean Tatars were ousted from Crimea. Therefore, now many of them live in different countries, including Turkey, rather than in Crimea and in Ukraine," said Chubarov.
He stressed that the concept "Crimea without Crimean Tatars", laid down in the time of Catherine II, was implemented purposefully and consistently.
"When the Russian Empire collapsed in 1917-1919, there were only 250,000 Crimean Tatars in Crimea. In the first 1.5 years of Soviet power, we lost 70,000 people. Then collectivization was held and another 30–35 thousand were sent to Siberia. In 1936–37, large-scale repression claimed lives of several tens of thousands of people. Until World War II started, we were half destroyed. Stalin decided to put the matter to rest by deporting the people from Crimea," Chubarov noted.
After Crimean Tatars returned, he noted, they could have healed their wounds as well as they could but the annexation of 2014 took place.
"In 2014, a new occupation took place and continues now, originated by Catherine, continued by Stalin, and now the tools are in Putin's hands," Chubarov concluded.
ol