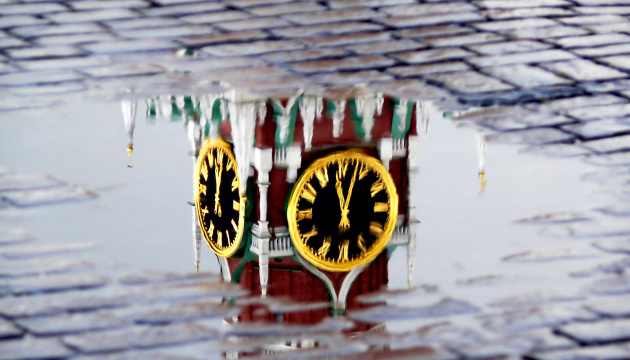 Zelensky's calls for tougher sanctions on Russia will not help settle Donbas conflict - Kremlin
The Kremlin believes that Ukrainian President Volodymyr Zelensky's calls for toughening sanctions against Russia will not help resolve the situation in Donbas.
Russian presidential press secretary Dmitry Peskov told this to journalists on Tuesday, according to Russia's news agency Interfax.
"We don't see any innovations so far. This is the rhetoric about sanctions against Russia, which is not new," Peskov said.
He responded to a request to comment on statements made by Zelensky at a meeting with U.S. and other guests on May 20 regarding the need for the United States to strengthen sanctions against Russia.
"The main thing is that this is the rhetoric that cannot help Ukraine deal with the problem of the southeast because the U.S. cannot implement the list of Minsk agreements," Peskov said.
"This list cannot be implemented by Russia too. It can and must be implemented by Kyiv," he said.
On May 20, Ukrainian President Volodymyr Zelensky met with representatives of the U.S. administration and the U.S. Congress who arrived in Kyiv to attend his inauguration. "The United States is a powerful and serious partner for Ukraine, first of all, in fighting Russian aggression. We will not be able to overcome Russian aggression in Donbas and Crimea alone. Therefore, we need your help. I would like to urge you that the United States keeps increasing sanctions against the Russian Federation," Zelensky said.
In addition, Zelensky and Vice-President of the European Commission for Energy Union Maros Sefcovic discussed counteraction to the Kremlin's aggression in Donbas, the prospect of de-occupation of Crimea and the holding of another round of negotiations in the Ukraine-EU-Russia format.
Zelensky also emphasized the importance for the EU to strengthen sanctions against the aggressor country. "The strengthening of sanctions against the Russian Federation due to its aggression is indeed our great hope. I hope that the sanctions pressure on the part of the EU will continue. It is very important to us, not just in words. It is vital for Ukraine and for those people that we lose in Donbas," he said.
Earlier, U.S. Special Representative for Ukraine Negotiations Kurt Volker repeatedly stated that Russia did not want to comply with the Minsk agreements that can bring peace to Ukraine.
op