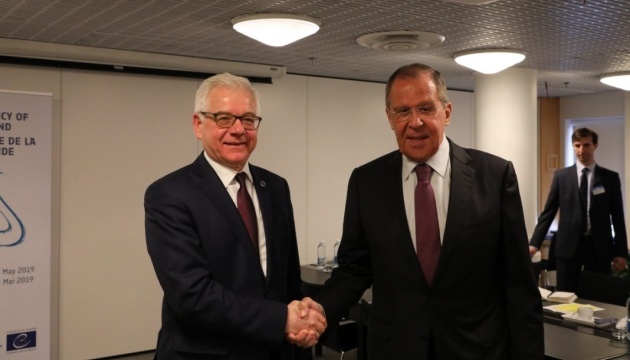 Polish, Russian foreign ministers in Helsinki discuss Ukraine and Kaczynski's plane
Polish Foreign Minister Jacek Czaputowicz met with his Russian counterpart Sergei Lavrov to discuss the situation in Ukraine and the return of the wreckage of the TU-154M plane to Poland.
The ministers met on the sidelines of the 129th session of the Committee of Ministers of the Council of Europe in Helsinki on Friday, the Foreign Ministry of the Republic of Poland reported on Twitter.
"The main topic of the conversation between Polish Foreign Minister Jacek Czaputowicz and Russian Foreign Minister Sergei Lavrov was the return of the wreckage of the TU-154M plane. The ministers also discussed several aspects of bilateral policy and international policy issues, including situation in Ukraine," the report reads.
According to the Foreign Ministry of Poland, the main topic of their conversation was the return of the wreckage of the TU-154M plane, which crashed near Smolensk on 10 April 2010. Minister Czaputowicz stressed that it is the key element of the ongoing investigation in Poland and that the former Russian President Dmitry Medvedev promised to return the Polish property back in December 2010. "There is no logical explanation why the Polish plane's wreckage, which is such an important symbol in the minds of Poles, continues to be held in Russia. We need to find as soon as possible a formula that would meet Poland's expectations and fulfill the promises made by the Russian authorities," the minister said.
The foreign ministers also discussed international policy issues. Minister Czaputowicz stressed the need to fully implement the Minsk agreements. He underlined the importance of Ukraine's territorial integrity, which the international community has repeatedly reiterated.
Following the talks, the parties agreed to return to regular meetings and more effective dialogue to resolve bilateral issues.
ish