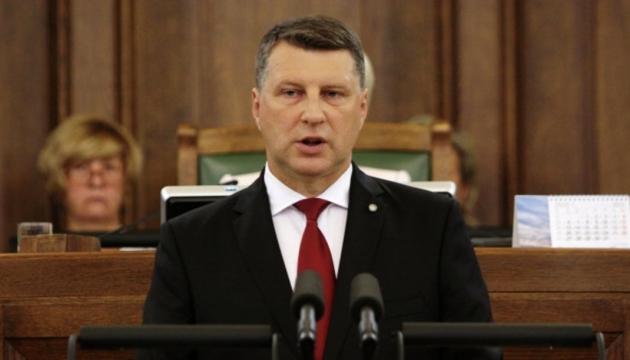 Ukraine needs to continue path of systemic transformation – Latvian president
Vice Prime Minister for European and Euro-Atlantic Integration of Ukraine Ivanna Klympush-Tsintsadze met with President of Latvia Raimonds Vējonis in Riga.
The parties discussed a wide range of issues of bilateral and multilateral dialogue between the countries. In particular, they talked about the deepening of trade and economic cooperation, the internal political situation in Ukraine, and cooperation within the framework of NATO and the EU.
Klympush-Tsintsadze thanked Vējonis for his personal contribution to the development of Ukrainian-Latvian relations and for a sincere desire to provide practical assistance and political support to Ukraine in the international arena.
In turn, Vējonis noted that "Latvia will continue to support Ukraine in various international formats, because the sovereignty and territorial integrity of Ukraine, like any other European country, is inviolable." Russia's aggressive actions are a gross violation of international law.
Speaking about the internal political situation in Ukraine, the Latvian president stated that despite the complex security challenges, Ukraine was actively implementing reforms, and this was a positive example of the state formation. "I have been to Ukraine many times. And the changes are obvious. Reforms are certainly improvements not for politicians but for society. It is important to continue the path of systemic transformations and not to lose pace," he said.
The vice prime minister thanked the Latvian president for the consistent support in the implementation of Ukraine's priorities on the way to European and Euro-Atlantic structures.
The parties also discussed the prospects for cooperation in the framework of the Ukrainian-Latvian Intergovernmental Commission on Trade, Economic, Scientific and Technical Cooperation, the meeting of which will be held tomorrow.
ish