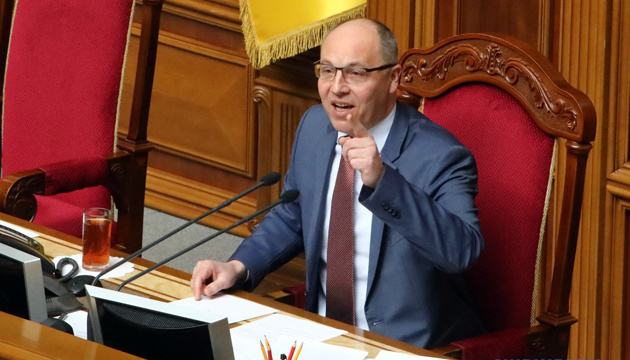 Rada to consider resolution on inauguration date this week - Parubiy
The Verkhovna Rada plans this week to adopt a resolution setting the date for the inauguration of Ukrainian President-elect Volodymyr Zelensky.
Verkhovna Rada Chairman Andriy Parubiy said this at a meeting of the conciliatory council on Monday, according to an Ukrinform correspondent.
"This week we should consider a resolution on setting the date of inauguration," he said.
According to him, five respective draft resolutions were registered in parliament, and one of them was withdrawn on Saturday.
"I consider it [the approval of a resolution on the inauguration date] to be a key decision this week," Parubiy added.
Several resolutions regarding the date of the inauguration of Zelensky have already been submitted to the Verkhovna Rada. MPs propose holding the inauguration on May 19, May 20, or on June 1.
On May 10, Zelensky demanded that Ukrainian MPs set the date for his inauguration for May 19.
May 19 is the Day of Remembrance of the Victims of Political Repressions, and therefore some politicians, historians, activists insist that this is a very unsuccessful date for the inauguration of the newly elected head of state.
op