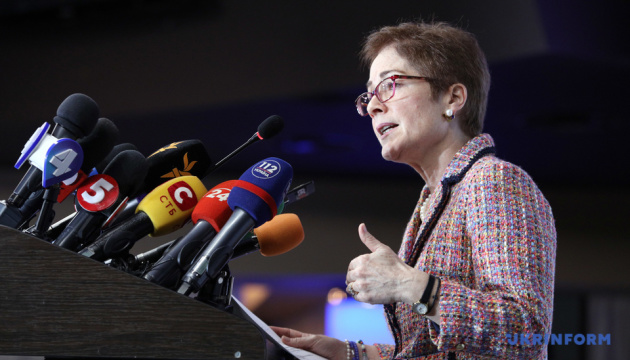 Washington recalls Yovanovitch as U.S. ambassador to Ukraine
U.S. Ambassador to Ukraine Marie Yovanovitch will complete her diplomatic mission in Ukraine on May 20, Ukraine's Mirror Weekly newspaper has reported, citing U.S. diplomatic sources.
"Marie Yovanovitch has immediately left for Washington for consultations. The ambassador should fly back to Ukraine next Saturday, on May 11. On May 20, as all embassy diplomats were informed today, Yovanovitch will return to Washington. Prior to the appointment of a new head of a diplomatic mission in Ukraine, these duties will be performed by the charge d'affaires whose candidacy has not yet been approved," the report reads.
In 2016, Yovanovitch replaced Geoffrey Pyatt as U.S. ambassador to Ukraine. In July, the U.S. Senate approved her candidacy, and on August 23, she arrived in Kyiv.
op