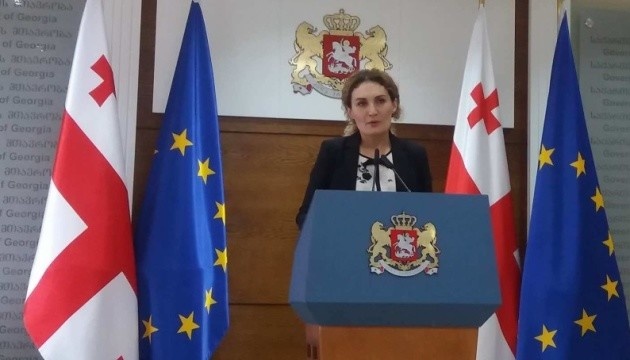 Tsikhelashvili: Issuance of Russian passports in Ukraine is repetition of Georgian scenario
State Minister for Reconciliation and Civic Equality in Georgia Ketevan Tsikhelashvili says that Georgia is well familiar with a scenario of issuance of Russian passports and her country knows what it may lead to.
"In fact, the President of Russia repeated in Ukraine what was happening in the late 1990s and early 2000s in Georgia: he started to issue Russian passports to the residents of the temporarily occupied territories of Donbas. Unfortunately, we are well familiar with this scenario and know what it leads to," Tsikhelashvili said during a conversation with Minister for Temporarily Occupied Territories and Internally Displaced Persons of Ukraine Vadym Chernysh, the press service of the Ministry reports.
It is obvious that Ukrainian partners are also well aware of why Russia needs such trite measures - to justify other illegitimate actions under the pretext of so-called "protection of the interests of their citizens," the Georgian minister noted.
"Unfortunately, we have already had this kind of experience, including during the aggression in 2008. I hope this will not happen in Ukraine, which has suffered many trials in recent years. However, this is apparently a very alarming signal that Russia is not going to abandon its policy, as well as a signal of the need to intensify our efforts and efforts of our international partners to confront – in a peaceful but very principled manner – inhuman, militaristic policy of the Russian Federation," Tsikhelashvili noted.
In turn, Vadym Chernysh underscored the importance of Georgian experience in predicting further steps of the Russian Federation and counteracting them.
"I believe that Ukraine cannot recognize the passports issued by the Russian Federation to our citizens living in the temporarily occupied territories of Donbas. As the experience of Georgia shows, the issuance of passports will not affect the socio-economic status of the occupied territories and will not improve the welfare of the population, forced to live under the occupation. At the moment, our Ministry is preparing a number of proposals for changes in the legislation on non-recognition of corresponding documents by Ukraine," Chernysh said.
As reported, Russian President Vladimir Putin signed a decree last week to provide expedited Russian citizenship to residents of certain areas of Donetsk and Luhansk regions as well as citizens of Ukraine who lived in Crimea in March 2014.
ol