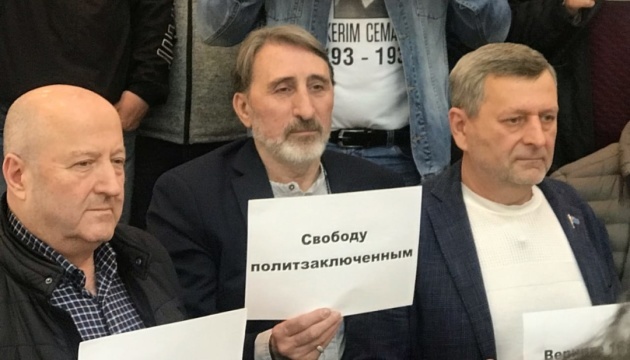 Rally in support of Crimean political prisoners held in Kyiv
A rally in support of Crimean political prisoners was held in the Religious Administration of Muslims of Ukraine in Kyiv on May 2.
"The activists held the sheets of paper reading the calls for the Russian authorities to release the captives," Channel 5 reports.
According to human rights activists, the occupying power has detained and jailed about a hundred people after Crimea was annexed in 2014, including Ukrainian sailors, who were seized by Russians near the Kerch Strait in late November last year. The latest searches were conducted by Russian security services in the houses of Crimean Tatars earlier this week. Some activists were detained.
"It is a deliberate policy. We now have 39 people, who were transferred [from Crimea] to Rostov region [in Russia]. This inflicts enormous losses to relatives, who want just to visit them, to hand over food, to meet," said Refat Chubarov, the Chairman of the Mejlis of the Crimean Tatar people.
ol