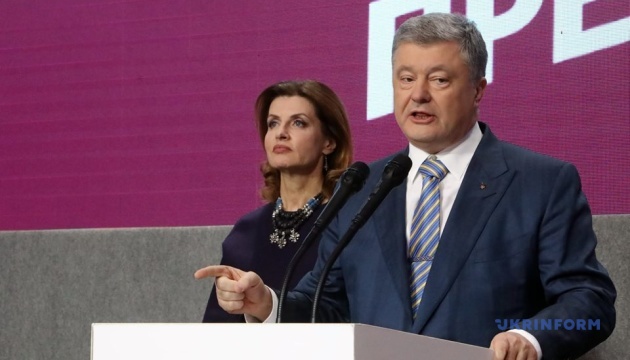 We did not win the battle, yet we did not lose the war
Dear Ladies and Gentlemen, friends of Ukraine,
First of all, I would like to thank you for such great attention to the electoral process in Ukraine.
I am glad that we succeeded to ensure free, fair, democratic and competitive elections. No doubt that Ukraine has put a new high standard for the democratic electoral campaign.
I will accept the will of Ukrainian people.
I am sincerely grateful to the international leaders for their unwavering support of Ukraine and myself during the presidential term.
Every day and every minute of these five years we felt your support.
As one of the key political leaders in Ukraine, I will remain at Ukraine's service and will keep championing EU and NATO integration agenda, decentralization, security and anticorruption reforms.
Under any circumstances and in any political role I will do my best to counter revanche and to ensure that Ukraine will not change its course.
However, the outcome of elections leaves us with uncertainty, unpredictability and a big question mark on whether the strategic course of Ukraine towards the EU and the NATO will be secured and the democratic reforms will be continued.
You may just look at the celebrations in the Kremlin on the occasion of the elections. They believe that with a new inexperienced Ukrainian President Ukraine could be quickly returned to Russia's orbit of influence.
Therefore, I call on the international community to help Ukraine to secure all the recent achievements and the strategic choice of the nation for integration to the European Union and the NATO.
Please, stay with Ukraine no matter what!
Support Ukrainians and be with them!
We must keep strong solidarity and unity with Ukraine and continue countering ongoing Russian aggression, including strengthening the sanctions regime.
We are halfway to our destination.
We must continue implementation of the reform agenda, including macroeconomic stabilization, anticorruption architecture, modern army, Association Agreement with the EU, visa-free regime, decentralization, energy security.
With your help, Ukrainian nation will make it.
There are a couple of key principles to be preserved:
Ukraine is a stronghold of democracy and the key to security of the continent!
Nothing about Ukraine without Ukraine!
Crimea is Ukraine!
Russia must stop its aggression against Ukraine and leave Ukrainian Donbas!
Russia must release all Ukrainian citizens!
We will be stronger together!