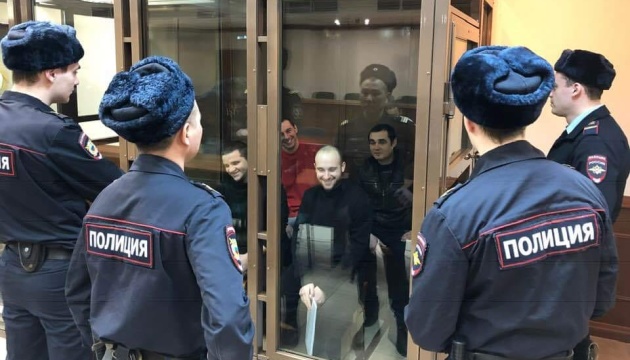 Arrest of four more Ukrainian captured sailors extended
The Lefortovsky District Court in Moscow has extended the arrest of four more Ukrainian prisoners of war.
The arrest of Volodymyr Tereshchenko, Bohdan Holovash, Serhiy Popov and Andriy Shevchenko was extended for three months until July 24, 2019, the Hromadske reports from the courtroom.
Earlier today, the arrest of Serhiy Tsybizov, Roman Mokriak, Andriy Oprysko and Yevhen Semidotsky was extended.
Today, on April 17, the court hearings on the extension of arrest of 24 Ukrainian prisoners of war are held in the Lefortovsky District Court in Moscow
On November 25, 2018, Russian security forces seized three Ukrainian Navy vessels in the Kerch Strait and captured 24 Ukrainian servicemen. Three of them were wounded in the attack.
Russian-controlled "court" in the occupied Crimea arrested all Ukrainian servicemen for the alleged illegal border crossing. Now they are held in the Lefortovo remand prison. All the detained Ukrainian sailors declared themselves the prisoners of war.
On January 24, 2019, the Parliamentary Assembly of the Council of Europe adopted a resolution, calling on Russia to treat Ukrainian captured sailors in accordance with the Geneva Convention on Prisoners of War.
ol