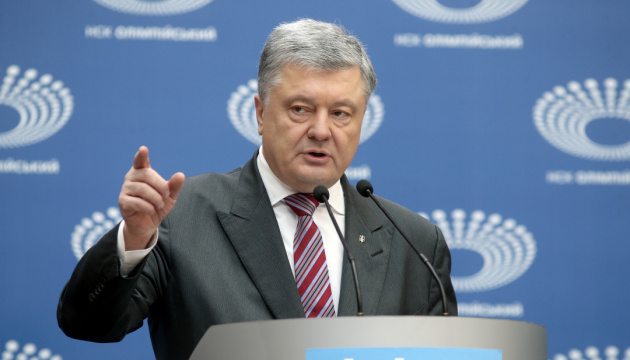 President explains procedure for joining EU
Ukraine's accession to the European Union will be held through a referendum after filing an application for gaining membership in the European community.
President of Ukraine Petro Poroshenko made a corresponding statement at the National Sports Complex "Olimpiysky" in Kyiv, where he arrived to participate in the pre-election debate with presidential candidate Volodymyr Zelensky, an Ukrinform correspondent reports.
"I'm concerned about a proposal that we have to stop the Euro-Atlantic integration now to hold a referendum [proposal of Volodymyr Zelensky to put an issue of Ukraine's joining the EU and NATO to vote on a referendum]. People have already made up their mind. Over half of the population support joining NATO, and almost two-thirds support accession to the EU. I believe that this is a deliberate delay of our return to the family of the European nations. I want to inform you that the referendum will still be held. Someone may not know this, but the accession to the EU is impossible without a referendum," Poroshenko said.
The Head of State stressed that an application for accession to the EU is submitted first, and the accession itself is possible only when the country meets the criteria, and also when the people decide on the referendum whether they are ready to delegate part of the powers to a supranational body.
At the same time, Poroshenko noted that one should not "deceive people" regarding the determination of the Euro-Atlantic direction of Ukraine's movement, because it is the "Putin's scenario."
Joining the EU and NATO will not weaken Ukraine, the Head of State noted.
ol