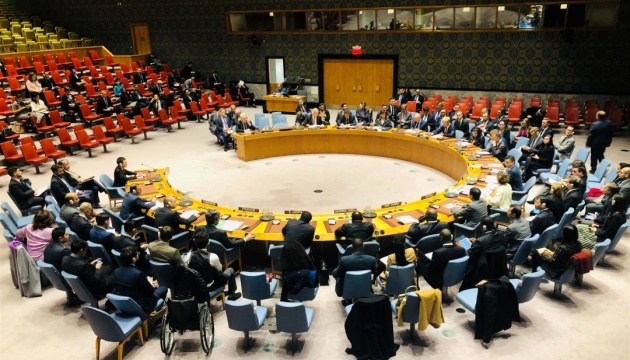 US and UK call on world to thwart legalization of Crimea annexation
The United States and the United Kingdom will never recognize the occupation of Crimea and call on the world to thwart the legalization of the annexation of the peninsula by Russia.
The representatives of two countries made the relevant statements at a special meeting of the UN Security Council devoted to the fifth anniversary of Crimea occupation, an Ukrinform correspondent reported from New York.
"We remain firmly opposed to Russian attempts to normalize this unlawful situation [the occupation of Crimea], and urge others to refrain from actions that might be interpreted as recognizing any change in the status of Crimea," Ambassador Jonathan Cohen, Acting Permanent Representative U.S. Mission to the United Nations, said.
He noted that the United States would continue to draw on the range of measures at its disposal, including diplomacy, sanctions, and security assistance "to ensure that Russia pays a price for its occupation of Crimea." The diplomat added that the sanctions on Russia would remain in place until Russia returns control of the Crimean peninsula to Ukraine and fully implements the Minsk agreements.
"We also urge Russia to cease its increasing militarization of the Crimean peninsula, including the conduct of military exercises and the transfer of weapon systems and military personnel to Crimea. By continuing its aggressive acts against Ukraine, Russia only further isolates itself and reduces the possibility of a better future for its people and its neighbors," Cohen underscored.
In turn, Stephen Hickey, UK Political Coordinator at the UN, emphasized that the international community would not only keep current sanctions but would also be ready to impose additional ones. He expressed solidarity of the UK with the Crimean Tatar people.
Hickey also reminded of two political prisoners of the Kremlin, whose health status raised the greatest concern - Pavlo Hryb and Edem Bekirov - and urged to immediately provide them with the necessary assistance and, in general, to release all the political prisoners held by the Kremlin.
The British diplomat added that Crimea should remain in focus of attention of the international community, in particular, that of the United Nations. He also condemned "repeated cases of Russia's interference in Ukraine's domestic policy."
ol