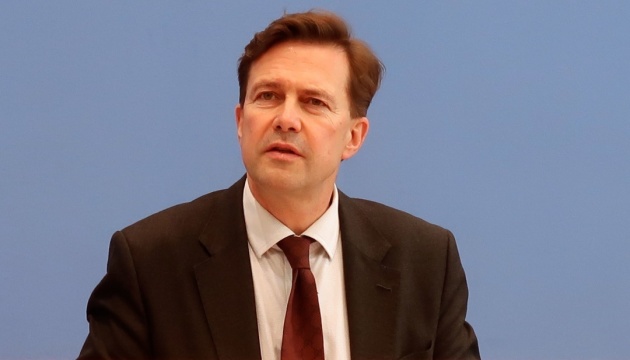 Berlin urges Moscow to restore Ukraine's sovereignty
Germany is not going to recognize Russia's annexation of Crimea, regardless of how much time has passed since this violation of international law.
German government spokesman Steffen Seibert said this at a briefing on Friday, according to an Ukrinform correspondent.
"We, as before, do not recognize the annexation and urge Russia to restore Ukraine's sovereignty, ensure free navigation and free political prisoners," Seibert said.
According to him, the fact that a gross violation of international law has lasted for five years does not mean that the attitude to this fact and to this situation should change. Seibert said that Berlin wants, "with patience and together with partners," to make every effort to restore Ukraine's sovereignty both with regard to Crimea and eastern Ukraine, where violence could not have happened if separatists in Donetsk and Luhansk regions would not receive support from Russia.
Berlin recalled that Russia violated international law five years ago. In addition, Seibert noted that the German government was concerned about the current pressure on minorities in Crimea, in particular, Crimean Tatars, and added that dozens of differently-minded people are persecuted and imprisoned, including film director Oleg Sentsov. He also mentioned the commissioning of the Kerch Strait Bridge, which allowed Russia to strengthen control over the strait and the Sea of Azov.
Seibert noted that earlier the EU, in close cooperation with the United States and Canada, had extended sanctions against persons involved in "military violence" by the Russian Navy in November last year and the detention of 24 Ukrainian seamen who are still in Russian prisons.
On March 15, the Council of the European Union included in the list of persons and institutions subject to restrictive measures due to their actions undermining or threatening the territorial integrity, sovereignty and independence of Ukraine, eight Russians involved in organizing an armed provocation against Ukrainian ships in the Sea of Azov in November 2018.
op