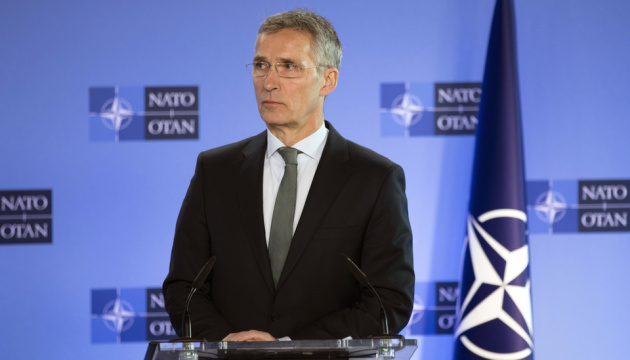 NATO suspended practical cooperation with Russia in 2014 - report
The North Atlantic Alliance made efforts to build strategic partnership with Russia but suspended all practical cooperation with it following the illegal annexation of Crimea and aggression against Ukraine in 2014.
A respective clause is contained in the NATO Secretary General's Annual Report for 2018, in a section devoted to NATO-Russia relations, according to an Ukrinform correspondent.
NATO Secretary General Jens Stoltenberg presented the report at NATO headquarters in Brussels on Thursday .
"In the years following the Cold War, NATO worked hard to build a strategic partnership with Russia. This involved developing dialogue and practical cooperation in areas of common interest. However, in 2014, as a consequence of Russia's illegal and illegitimate annexation of Crimea, all practical cooperation between NATO and Russia was suspended. Russia's aggressive actions in Ukraine, its destabilizing military behavior and use of hybrid actions against nations across the Euro-Atlantic region have significantly altered the international security environment – reducing stability and security, and increasing unpredictability. In 2018, Russia's pattern of destabilizing behavior continued," the document reads.
The section lists Russia's actions that concerned NATO countries the most.
In particular, in March 2018, Allies condemned the attack involving a military-grade nerve agent in Salisbury, United Kingdom. Allies stood in solidarity with the UK's assessment that Russia is highly likely to have been responsible for the attack.
In October 2018, the Netherlands and the United Kingdom briefed Allies about the attempted hacking of the Organization for the Prohibition of Chemical Weapons, which they assess was carried out by Russian military intelligence.
"At the end of November, Russia used military force against three Ukrainian naval vessels in international waters in the Black Sea, near the Sea of Azov and the Kerch Strait. Allies called for calm and restraint and urged Russia to release the Ukrainian sailors and ships it had seized. Allies reiterated their full support for Ukraine's sovereignty and territorial integrity within its internationally recognized borders and territorial waters. They also committed to providing further political and practical support to Ukraine," the report reads.
In December 2018, NATO Foreign Ministers concluded that Russia had developed and fielded a missile system that violates the Intermediate-Range Nuclear Forces Treaty and called on Russia to return urgently to full and verifiable compliance.
"At the Brussels Summit, NATO leaders reaffirmed that the nature of the Alliance's relations with Russia will be contingent on a clear, constructive change in Russia's actions – one that demonstrates compliance with international law and its international obligations and responsibilities. NATO's policy towards Russia remains consistent: defense and dialogue," the document says.
op