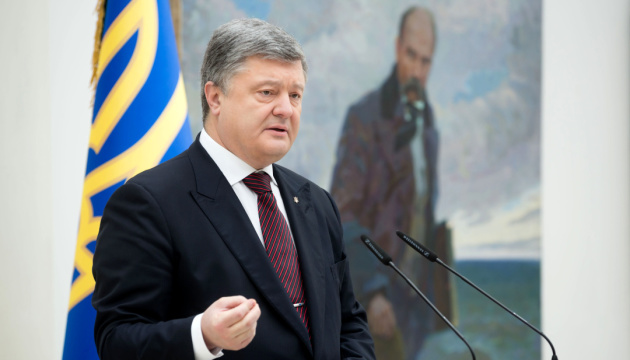 Poroshenko: I guarantee zero tolerance towards corruption
The President guarantees the prosecution of thieves and zero tolerance towards corruption.
President of Ukraine Petro Poroshenko made a relevant statement in an interview with ICTV Ukrainian TV channel, the press service of the Head of State reports.
He also stressed that the systematic efforts to combat corruption had been being made over the past five years. The process of eradicating this phenomenon has significantly improved, Poroshenko added.
"I want to remind everyone about the situation in the defense industry and in the army in 2014 – everything had been plundered since the independence of Ukraine. The ministers and prime ministers sold out, destroyed the army, made purchases at expensive prices…" he said.
The Head of State recalled that the volunteers had got involved then. "People, whose relatives were killed at the front, who sold all their property and gave money to the army — that was a litmus test that allowed us to take the first steps, change the food supply and purchase weapons," Poroshenko stressed.
"I want to emphasize that all this time we have resolutely fought against theft in the army. 400 criminal cases have been initiated, 120 charges have been brought. The courts have delivered judgments. The heads of the enterprises have been dismissed or convicted," the President noted.
Poroshenko underscored that he personally helped the army. "Of course, on the one hand, I am the Supreme Commander-in-Chief, while, on the other hand, I am a person who has donated almost UAH 1.5 billion to charity. A significant part has been donated to the army," the President of Ukraine said.
Corruption in the defense sector is unacceptable, he emphasized: "Zero tolerance towards corruption. Therefore, it is completely unacceptable when someone steals in the army today."
"My reaction will be very fast, but at the same time I will not allow using this information leakage to attack the army and our defense industry," the President said.
According to him, the consequence of such attacks on the army will be its weakening, slowing the pace of providing the latest weapons. After all, the Ukrainian army now has the prospects of getting cruise missiles, precision-guided munitions, anti-tank complexes, UCAVs, and other types of weapons.
"That is why my reaction is absolutely unequivocal: the law enforcement agencies have all the possibilities. After my appeal, about 10 additional criminal cases were initiated, the searches were conducted in homes of all defendants, and charges were brought. There are court rulings, including in the cases against the directors," Poroshenko said.
The President stressed that he did not discuss the court rulings. However, he noted that the current situation of presenting the information requires quick and decisive actions.
ol