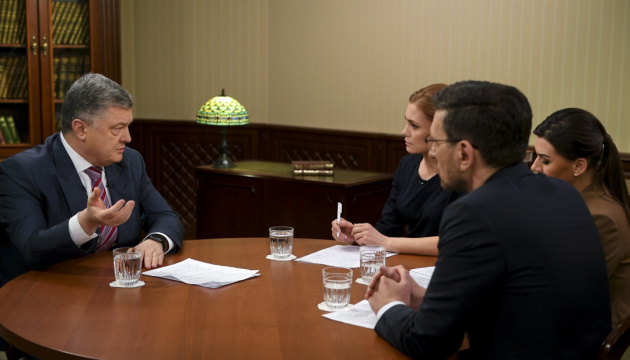 Poroshenko: No one will escape responsibility for illicit enrichment
Officials should not expect a ruling of the Constitutional Court of Ukraine to help them avoid responsibility for illegal enrichment.
Ukrainian President Petro Poroshenko said this in an interview with Ukrainian TV channels on Thursday, March 7, according to an Ukrinform correspondent.
"I want to disappoint officials who think that as a result of the decision of the Constitutional Court they will be able to avoid responsibility for illegal enrichment. This will not happen because nobody canceled the concept of 'illegal enrichment'," Poroshenko said.
He noted that immediately after the announcement of the decision, he had introduced a bill that has only one difference - it takes into account the remarks of the Constitutional Court regarding the presumption of innocence.
"But nobody will escape responsibility for corruption, including illicit enrichment," he added.
On February 26, the Constitutional Court declared unconstitutional Article 368-2 of the Criminal Code of Ukraine, which envisaged the prosecution of officials for illicit enrichment.
Criminal liability for illegal enrichment was introduced in 2014. This was one of the EU requirements for the implementation of the Visa Liberalization Action Plan.
On February 28, the president registered in the Verkhovna Rada a draft law introducing amendments to the Criminal and Criminal Procedure Codes of Ukraine regarding liability for illicit enrichment (No. 10110).
op