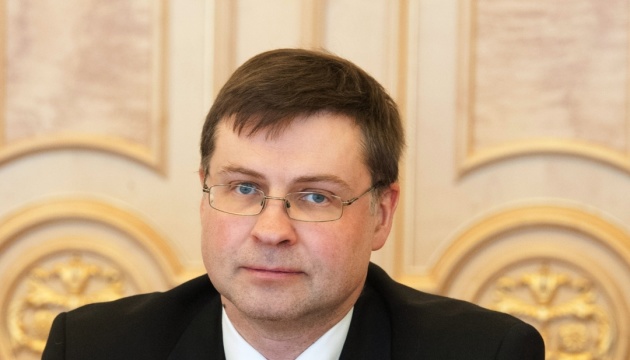 EU ready to propose projects for development of Azov Sea region — Dombrovskis
The European Union is ready to propose a package of projects for the development of the Sea of Azov region and will try to implement them as soon as possible.
Vice-President of the European Commission Valdis Dombrovskis said this during a meeting with Prime Minister of Ukraine Volodymyr Groysman. The meeting took place in Kyiv, the Government portal reported.
Tomorrow, March 1, Vice-President Dombrovskis will visit Berdyansk to assess the situation in the region and determine the most sought after directions of cooperation.
"We support the sovereignty and territorial integrity of Ukraine. Tomorrow I will visit Berdyansk and I will be able to see the consequences of blocking the Kerch Strait. We will see how we can help the region to mitigate the effects of all the recent events," he stressed.
Groysman thanked Dombrovskis for the initiative to visit Berdyansk and see what is happening there.
"For us, it is vital to ensure the industrial and infrastructure development of the region and the connection of Ukrainian cities and the Sea of Azov region with the entire world. We are interested in implementing such projects," Groysman added.
As part of the talks, the parties touched upon the progress of reforms in Ukraine and the further implementation of the fourth program of macro-financial assistance. The first tranche of the program was disbursed to Ukraine in December last year. Now Ukraine has to take measures to meet the requirements for receiving the second tranche of EUR 500 million.
"We see that the work is underway in all areas. I am convinced that if we maintain this dynamics of development, we will get results in the future. We will further cooperate with Ukraine within the framework of the Association Agreement and we praise the decision to consolidate the European integration course in the Constitution of Ukraine. We will work closely in the future," Dombrovskis stressed.