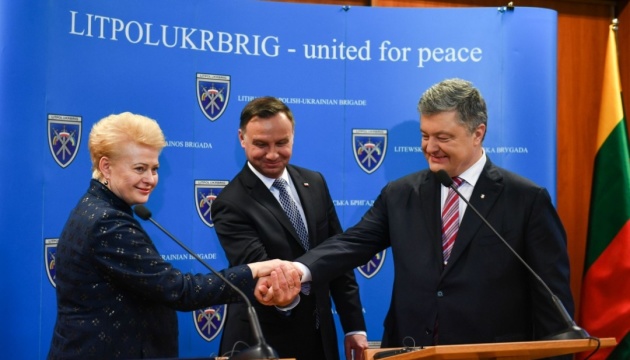 Presidents of Ukraine, Lithuania, Poland discuss 'Azov' package of sanctions against Russia
The presidents of Ukraine, Lithuania, and Poland discussed the possibility of imposing additional sanctions on Russia over its aggression in the Kerch Strait.
"We talked about additional sanctions over Kerch because we know what it means when you are attacked. We continue to provide comprehensive support to Ukraine because it is important not only for stabilizing Ukraine but for the security of the Baltic region," President of Lithuania Dalia Grybauskaite said at a joint press conference with the presidents of Ukraine and Poland in Lublin, an Ukrinform correspondent reported.
She praised the political decision of the European countries to expand the list of Russian functionaries who will be subject to sanctions.
"The purpose of the sanctions is to show that the European Union does not accept this [Russian aggression] and will continue to put pressure on Russia. If Russia does not maintain a dialogue on Ukraine and continues to pursue an aggressive policy in the Kerch Strait area, the pressure will be stepped up," the President of Lithuania said.
ol