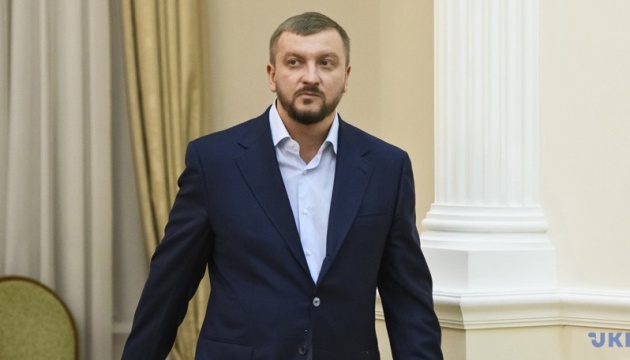 Ukraine files additional application to ECHR on prisoners of war
The Ukrainian Justice Ministry has filed an additional application to the European Court of Human Rights (ECHR) regarding Ukrainian sailors with the requirement to provide them with medical assistance and transfer them to medical institutions.
Ukrainian Justice Minister Pavlo Petrenko told this to journalists on Monday, an Ukrinform correspondent said.
In particular, he said that Ukraine submitted the application with the demand to comply with Rule 39 (prohibition of actions that could lead to irreparable or significant damage to life and health) on Friday, February 15. The Justice Ministry demanded that Ukrainian sailors be granted medical assistance and transferred to medical facilities. "We demand that these medical institutions be institutions of Ukraine," Petrenko added.
He specified that the additional application had been filed with the ECHR in addition to "five major inter-state cases against Russia."
The ECHR currently has five "Ukraine v. Russia" cases, namely "Ukraine v. Russia (regarding Crimea)" on human rights violations in Crimea as a result of its annexation by the Russian Federation; "Ukraine v. Russia (regarding Donbas)" on human rights violations in certain areas of Donetsk and Luhansk regions; "Ukraine v. Russia" regarding the abduction of orphan children and children with disabilities in Donetsk and Luhansk regions by representatives of terrorist groups "DPR" and "LPR" and their illegal transfer to Russia; "Ukraine v. Russia" concerning Russia's violation of the rights of Ukrainian political prisoners, and "Ukraine v. Russia" regarding captured Ukrainian sailors.
As was reported earlier, on November 25, 2018, Russia carried out direct military aggression against three Ukrainian naval vessels in the Kerch Strait and captured 24 Ukrainian soldiers.
All Ukrainian seamen captured by Russia called themselves prisoners of war. International organizations and governments of many countries condemned an act of Russian aggression and demanded that Russia release Ukrainian military immediately and unconditionally.
About 70 Ukrainian political prisoners are also held in Russia and in occupied Crimea, among them Ukrinform journalist Roman Sushchenko who was sentenced to 12 years in prison for alleged spying.