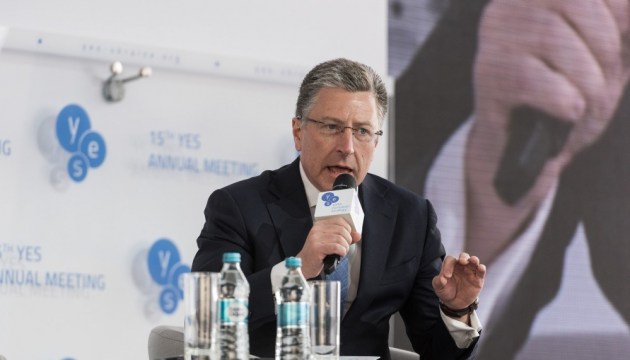 Volker: International observers needed in Sea of Azov, Black Sea
Washington considers it expedient to introduce additional international monitoring of the situation at sea amid the conflict of Russia against Ukraine.
U.S. Special Representative for Ukraine Negotiations Kurt Volker made a relevant statement during a telephonic press conference on Thursday, an Ukrinform correspondent reported.
"The idea of ​​monitoring is very important," Volker stressed, when discussing the seizure of Ukrainian ships and crew in the Black Sea by Russia last November.
He noted that the publicly available videos and the reports of the Ukrainian side showed clearly the blockade of the Kerch Strait, the persecution and firing on the Ukrainian ships in the international waters. However, Russia is now challenging some elements of this situation.
"Therefore, attracting international observers apart from the Ukrainian presence would be a very positive element in order to create more opportunities for monitoring the situation," Volker said.
According to him, this would allow documenting the actions of the Russian side and preventing the recurrence of such incidents.
At the same time, the American diplomat noted that the current mission of OSCE monitors had the powers to observe the implementation of the Minsk agreements on a limited area. Meanwhile, the Russian side stresses that the OSCE cannot be present in the territories not defined by its mandate. The Ukrainian side, for its part, is willing to invite additional international monitoring, the diplomat said.
So, the best solution in this situation would be the presence of international observers on the territory of Ukraine, which is not the subject of a territorial dispute, as well as on Ukrainian ships at the invitation of Ukraine," the U.S. Special Representative emphasized.
It would provide more opportunities to monitor the situation, he noted.
As reported, German Foreign Minister Heiko Maas put forward an initiative to expand the mandate of the OSCE Special Monitoring Mission to Ukraine to the Sea of Azov.
At the same time, the Russian Foreign Ministry said that the organization of an international monitoring mission in the Kerch Strait was out of the question.
As reported, on November 25, 2018, Russian border ships fired on and seized in the Kerch Strait three Ukrainian naval vessels that were moving from Odesa to Mariupol. Twenty-four Ukrainian sailors were captured.
The sailors were detained for two months. They were charged with illegally crossing Russia's border in the Black Sea. On November 29, Ukrainians were taken to a detention center in Moscow.
On January 16, Moscow's Lefortovo District Court extended the arrest of all 24 seamen until April 24 and 26, 2019. Attorneys will file appeals on all Ukrainians.
All captured sailors called themselves prisoners of war.