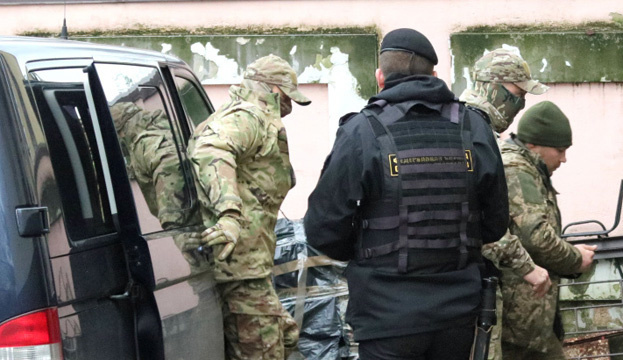 Russian court extends arrest of eight captured Ukrainian sailors
The Lefortovsky District Court in Moscow has extended the arrest of eight Ukrainian sailors, who were captured in the Kerch Strait, until April 24.
The court hearing was held behind the closed doors as was requested by the investigation. The investigators stated that the announcement of a court ruling would violate the secrecy of investigation, mbk-news reports.
The lawyers of Ukrainian sailors filed a motion to change the jurisdiction to a military court, but the court denied the motion.
At present, the court has extended the term of arrest of eight out of 24 captured Ukrainian sailors until April 24.
According to TASS news agency, at first, the judge made a ruling regarding Roman Mokriak, Andriy Oprysko, Yevhen Semydotsky and Serhiy Tsybyzov. Later, the court extended the term of arrest of Bohdan Holovash, Serhiy Popov, Volodymyr Tereshchenko and Andriy Shevchenko until April 24.
On November 25, 2018, Russian border ships fired on and seized in the Kerch Strait three Ukrainian vessels that were moving from the port of Odesa to the port of Mariupol. A total of 24 Ukrainian sailors were captured.
Russian-controlled "courts" in occupied Crimea arrested all sailors for two months, and they were taken to Moscow.
At present, 21 Ukrainian servicemen are in Moscow's Lefortovo remand prison, and three more wounded sailors stay in the Matrosskaya Tishina remand prison.
The coordinator of the team of lawyers, Nikolai Polozov, said that all Ukrainian sailors captured by Russia told investigators that they are prisoners of war.