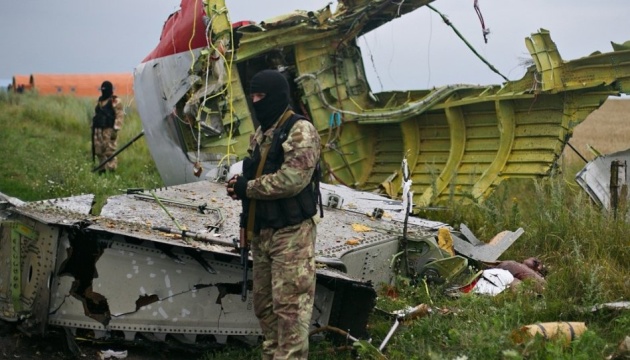 Prosecutor General's Office: International investigation into MH17 crash draws to a close
The investigation of the Joint Investigation Team into the downing of flight MH17 draws to a close.
"We are entering a decisive phase of our investigation. However, the specific date of submission [of the case files to the court] depends on our Dutch colleagues," First Deputy Prosecutor General of Ukraine Dmytro Storozhuk said in a commentary to an Ukrinform correspondent, answering the question when the investigation will be completed.
As he explained, the team has been preparing the case for submission to court for such a long period of time because it is an unprecedented case in the world history.
"In practice, it is absolutely unprecedented case in the world history. Such an investigation and the future format of the court have never existed, so a very careful preparation is ongoing, which, of course, takes much time," he said.
The Deputy Prosecutor General of Ukraine emphasized that in 2018 the Joint Investigation Team had prepared the case files to submit them to a court of the Netherlands, including at the legislative level, as it had been necessary to adopt a ratification and implementation package of laws regulating certain procedural moments, which had been not stipulated in the national legislation before.
Earlier, Storozhuk said in an interview with Ukrinform that 120 people were involved in the case of downing flight MH17. The main trial will be held in the Netherlands. At the same time, the countries, which are members of the Joint Investigation Team, will also be able to lodge the lawsuits with their national courts as part of their criminal proceedings.
Malaysia Airlines flight MH17, which was en route from Amsterdam to Kuala Lumpur, was shot down over Donbas in July 2014. There were 283 passengers and 15 crewmembers on board the plane. All of them died.
In September 2016, the Joint Investigation Team said it had been established on the basis of irrefutable evidence that the plane had been shot down by a 9M38 Buk missile launched from the territory controlled by pro-Russian militants in the eastern part of Ukraine.
The JIT, which investigates downing of flight MH17, consists of the representatives of Australia, Belgium, Malaysia, the Netherlands and Ukraine.