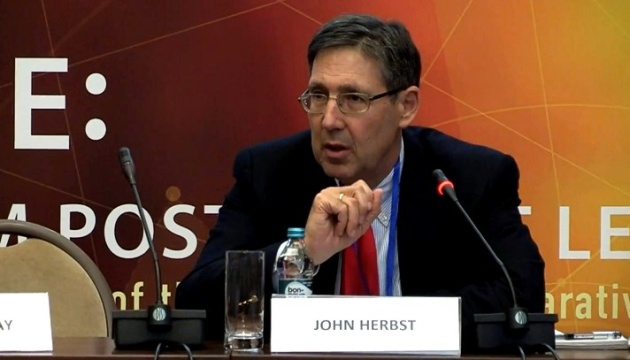 Ex-ambassador says U.S. will give Ukraine more arms in 2-3 months
Former U.S. Ambassador to Ukraine John Herbst, who now serves as director of the Eurasia Center at the Atlantic Council, has said that the United States will give arms to Ukraine and announce new sanctions against Russia due to its aggression in the Kerch Strait in two or three months.
He said this in an interview with the Ukrainian Service of Radio Free Europe/Radio Liberty.
In two or three months, we will see the U.S. giving arms to Kyiv and announcing new sanctions against Russia. I think that this much stronger U.S. response will come in the next eight to ten, maximum 12 weeks. In addition to sanctions, there will also be military assistance to Ukraine. Now there are enough arguments for the provision of anti-ship missiles, patrol ships, and possibly other military equipment to Ukraine, Herbst said.
When asked if the issue concerned lethal weapons, Herbst said that anti-ship missiles would help. The U.S. has enough Harpoon cruise missiles, based on technologies developed 30 years ago, and this is what the U.S. can already provide, he said. And, possibly, more modern missiles, Herbst added.
The former ambassador said that support for Ukraine in the U.S. Congress is now very strong. According to him, it will remain at least as serious, and maybe will also strengthen.
In addition, in his opinion, the U.S. reaction has been weak so far.
He said the best answer from the beginning could be sanctions against the largest Russian bank or the prohibition of Russian vessels to enter U.S. or EU ports and the provision of weapons to Ukraine.
Ukraine has already done a lot, strengthening its defense in the east, and should now think about strengthening its defense in the south, especially in the area of the Sea of Azov, perhaps in the area of Odesa, Herbst said.