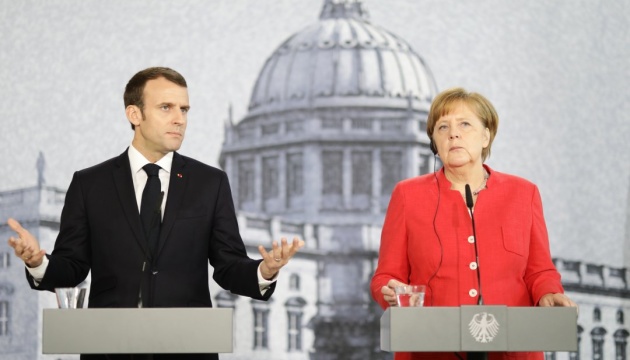 Merkel, Macron call on Moscow to release Ukrainian sailors before New Year
German Federal Chancellor Angela Merkel and French President Emmanuel Macron have welcomed the agreement on a New Year truce in Donbas and called on Moscow to release illegally detained Ukrainian sailors and ensure free navigation in the Kerch Strait and the Sea of Azov.
German government spokesperson Ulrike Demmer read out the text of a joint statement by the French president and the German chancellor at a briefing in Berlin on Friday, an Ukrinform correspondent said.
"We welcome the declaration of the Trilateral Contact Group of December 27, 2018, expressing the commitment to a solid, comprehensive and lasting ceasefire in eastern Ukraine [...] We call on the parties to fully assume their responsibilities, especially with regard to the civilian population concerned," Demmer said.
Berlin and Paris believe that the approach of the New Year and Orthodox Christmas holidays should provide an opportunity for the parties to the conflict in eastern Ukraine to focus on the needs of the civilian population affected by this conflict and its consequences.
The French and German leaders also raised the issue of the human rights situation in Russian-occupied Crimea, as well as an incident involving Russia's use of military force in the Kerch Strait and attempts to gain control of the Azov Sea, which are "sources of deep concern for us."
Merkel and Macron demanded that Moscow ensure a safe, free and unhindered passage through the Kerch Strait, as well as the immediate and unconditional release of Ukrainian seamen.
"They must also be able to spend the holidays with their families," the two leaders said.
Merkel and Macron also recalled the need to implement all provisions of the Minsk Agreements.
The security subgroup of the Trilateral Contact Group agreed on the introduction of a ceasefire regime in the conflict zone in Donbas from December 29.