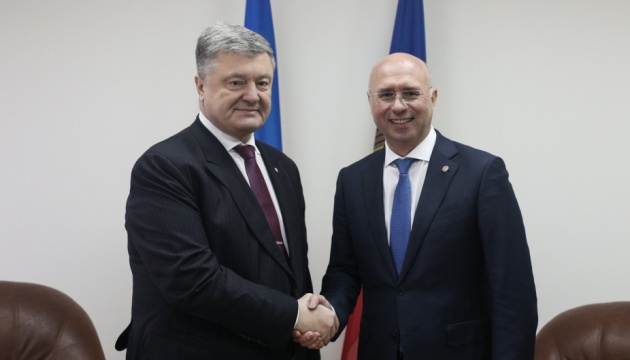 Poroshenko, Filip open new checkpoint on Moldovan-Ukrainian border
Ukrainian President Petro Poroshenko and Moldovan Prime Minister Pavel Filip have attended the opening of the new Palanca-Mayaky-Udobne checkpoint on the Moldovan-Ukrainian border, Ukrinform's correspondent in Moldova said.
"Investment in this important project for our countries is being made, first and foremost, in the interests of citizens of Moldova and Ukraine. The opening of the new joint checkpoint Palanca-Mayaky-Udobne, as previously emphasized by our Ukrainian colleagues, will help double the transport and passenger flow," Filip said.
The Moldovan prime minister also said that in addition to the amenities for citizens, the new checkpoint also has comfortable conditions for the work of Moldovan and Ukrainian border guards and customs officers.
Filip emphasized the importance of one more checkpoint opened earlier at the central, Transdniestrian section of the Moldovan-Ukrainian border - Kuchurhan-Pervomaisc.
He thanked Ukraine for close cooperation during the opening of the checkpoint at the Transdniestrian section of the border, owing to which, for the first time since independence, Moldova has established control over this border section.
This is already the sixth joint customs and border control point on the Moldovan-Ukrainian border.