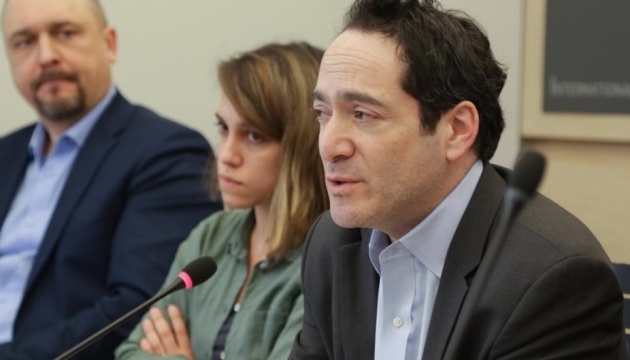 U.S. calls the biggest challenges for future elections in Ukraine
The future presidential and parliamentary elections in Ukraine face a number of challenges that can seriously affect the electoral process.
Among them are the Kremlin's hybrid aggression, the possibility of new armed provocations by Russia, as well as media controlled by oligarchs and populism of some candidates, Jonathan Katz, a senior fellow with The German Marshall Fund of the United States, told Ukrinform's correspondent following a meeting of the Transatlantic Task Force on Elections and Civil Society in Ukraine on Wednesday.
"First of all, the most important thing is to ensure the holding of free, fair and transparent elections," the expert noted in the context of the basic requirements for any electoral process.
At the same time, according to him, the presidential and parliamentary elections scheduled for next year in Ukraine "cause particular concern due to Russia's attempts to intervene in the process." He stressed that Russians made such attempts both during the pre-election period and on the election day.
"First of all, these issues relate to cyber security," the expert explained, adding that the United States and other Western countries interacted with Ukraine in this matter.
In addition, he did not exclude new military provocations by Russia, including large-scale ones. In this regard, the expert mentioned that in case of such provocations the partial martial law in Ukraine introduced for 30 days could be extended, and this would also have a potential negative impact on the electoral process.
In parallel, the elections in Ukraine face internal challenges related to providing a fair and transparent platform for all candidates. In particular, he talked about the use of media controlled by oligarchs and political factions that support only individual candidates.
Another challenge is the use of populist approaches by candidates in the upcoming elections. "It is not clear who is truly committed to reforms, who defends the course towards Euro-Atlantic integration supported by the majority of Ukrainians, and who can launch a challenge against corruption," the expert said.
ish