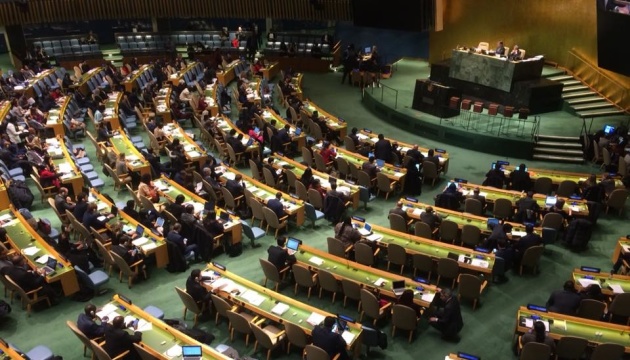 UN General Assembly adopts resolution on Crimea
The UN General Assembly has adopted a Ukraine-initiated resolution entitled "Problem of the Militarization of the Autonomous Republic of Crimea and the City of Sevastopol, Ukraine, as well as Parts of the Black Sea and the Sea of Azov."
The resolution was previously introduced by a group of 40 states headed by Ukraine. A total of 66 states supported the document, 19 voted against it, and 72 abstained, according to Ukrinform's correspondent in New York.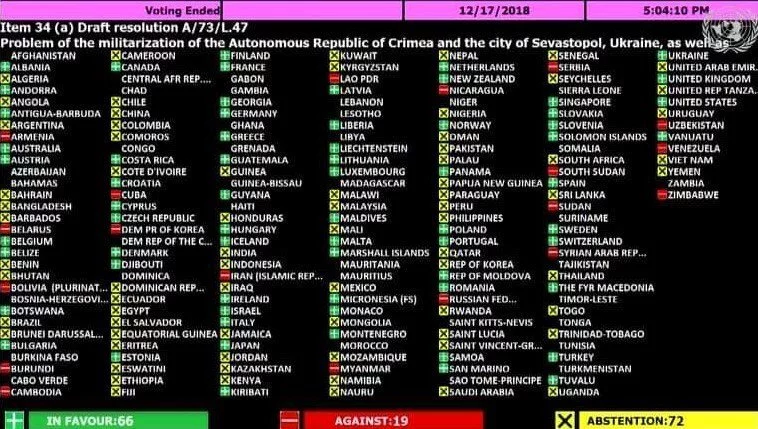 The resolution points to security threats that Russia creates to Ukraine, the Black Sea region and the whole of Europe by the transfer of troops and weapons to Crimea, in particular, aircraft and missiles capable of carrying nuclear warheads. For the first time, there is a direct call for Russia to immediately withdraw its troops from Crimea and end its temporary occupation of Ukraine's territory without delay.
"[The General Assembly] urges the Russian Federation, as the occupying power, to withdraw its military forces from Crimea and to end its temporary occupation of Ukraine's territory without delay," reads the document.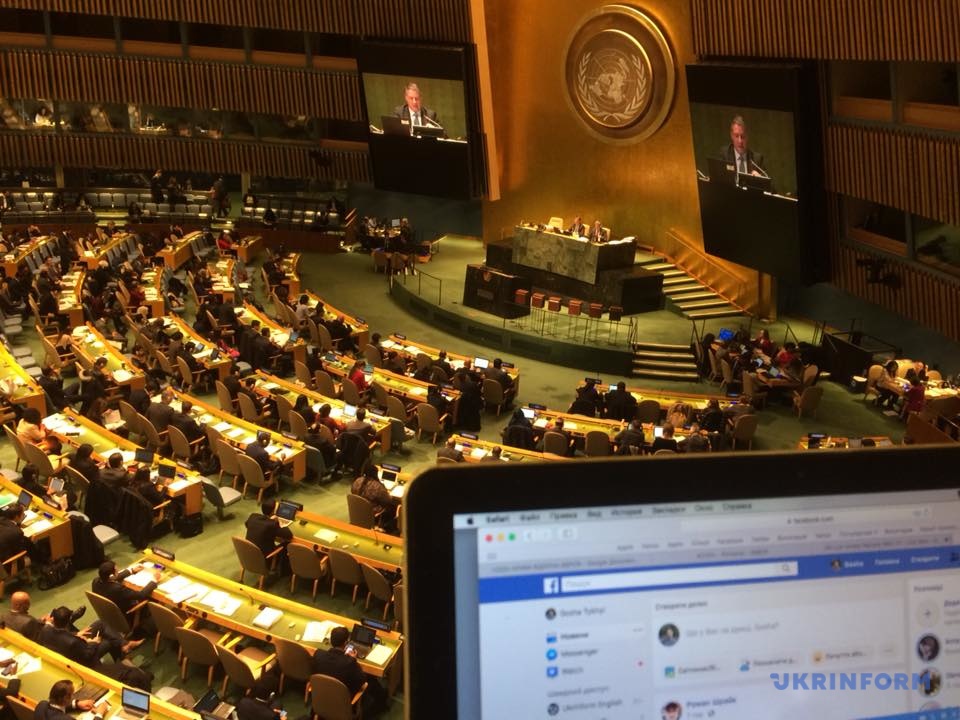 For the first time, the UN resolution mentions that by occupying Crimea, Russia violated the Budapest Memorandum of 1994.
The General Assembly recalled that the temporary occupation of Crimea, as well as the threat or use of force by Russia against the territorial integrity or political independence of Ukraine, is a violation of the obligations under the Budapest Memorandum on Security Assurances of December 5, 1994 in connection with Ukraine's accession to the Treaty on the Non-Proliferation of Nuclear Weapons which, inter alia, reaffirmed the commitment to respect the independence, sovereignty and existing borders of Ukraine.
In addition, the resolution expresses support for the sovereignty and territorial integrity of Ukraine, non-recognition of annexation of Crimea, grave concern about the progressive militarization of the peninsula and adjacent marine areas, the deployment of planes and missiles capable of carrying nuclear weapons, specifically mentioning an attack on Ukrainian ships in late November as an illustration of Russia's aggressive actions. The resolution also calls on Russia not to impede freedom of navigation in the Black Sea, the Sea of Azov and the Kerch Strait, to stop the harassment of commercial vessels, and condemns the illegal construction of the Kerch Strait Bridge.