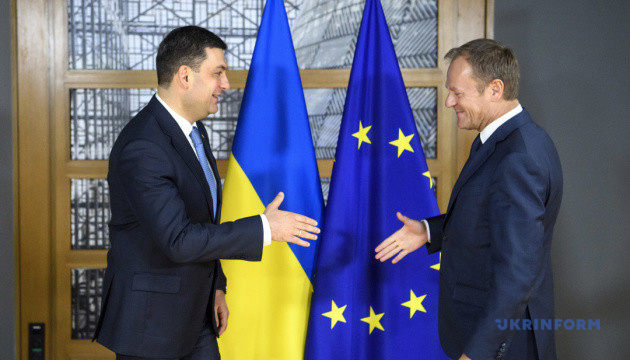 Groysman, Tusk discuss initiatives to support Sea of Azov region
Ukrainian Prime Minister Volodymyr Groysman and European Council President Donald Tusk have discussed initiatives to support the Sea of Azov region.
Groysman wrote this on his Twitter account.
"We are discussing with President of the European Council Donald Tusk the initiatives to support the Sea of Azov region. The escalation in the region should be stopped," he wrote.
He also added that mirror measures against Russia and Russian ships in international waters would be an effective tool.
Russian border ships on November 25 committed aggressive actions against Ukrainian naval vessels that were on their way from the port of Odesa to the port of Mariupol. Russian military fired on and seized three Ukrainian ships with 24 sailors on board in the Kerch Strait.
On November 26, the Verkhovna Rada of Ukraine adopted the law approving a presidential decree on the introduction of martial law for 30 days in ten regions of the country due to Russian aggression.