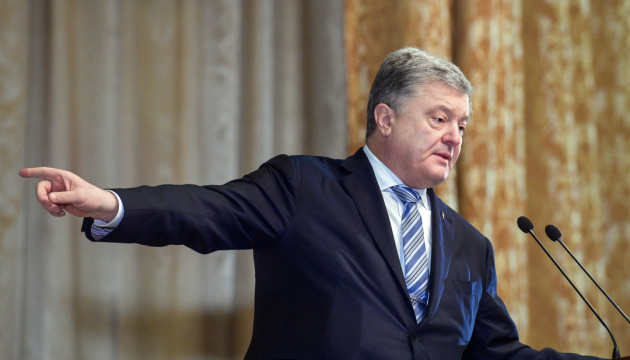 Ukraine expects concrete actions from Europe due to Russian aggression in Azov Sea - Poroshenko
Ukraine expects concrete actions from Western partners due to Russian aggression in the Kerch Strait and would like to invite NATO ships to the Sea of Azov.
Ukrainian President Petro Poroshenko said this in an interview with Bloomberg.
"I would like to thank all the leaders of the world for supporting us in this difficult time during Russian aggression. The statements of the United States, the G7, the European Union, our other allies, and various strong words are definitely strong support for Ukraine. But in this situation, I think, while Western partners make strong statements, Putin acts," he said, when asked whether he is satisfied with the reaction of Western countries to what happened in the Kerch Strait.
He added that the actions of the international community that could follow in response to Russian aggression could include sanctions and a buildup of NATO forces in the Black and Azov Seas to maintain stability in the region.
"In this situation, of course, we should have better coordination in order to act. To act means not to start a war [...] To act means [to impose] a new block of sanctions against Russia, probably named Azov sanctions, absolutely increase the presence of NATO in the Black Sea and probably in the Azov Sea. We would be very much pleased to invite NATO vessels to keep stability," he said.
As for presidential elections in Ukraine, Poroshenko said that they would not be rescheduled, as it will play into Putin's hands.
"If we postpone presidential elections, there will be only one winner in this situation, and the name of this winner is Putin. We will not give him this chance," he said.
When asked whether developments in the Kerch Strait affected the Ukrainian economy or the willingness of investors to invest in the country, Poroshenko said: "My answer is definitely not. First of all, it's because we do not limit any rights, including the rights of economic agents. We have a stable banking system. We have a stable exchange rate," he said.
On November 25, Russian border ships committed aggressive actions against Ukrainian ships heading from the port of Odesa to the port of Mariupol. They fired on and captured three Ukrainian ships in the Kerch Strait, as well as 24 sailors.
On November 26, the Verkhovna Rada adopted the law approving a presidential decree on the introduction of martial law for 30 days in ten regions of Ukraine due to Russian aggression.
op