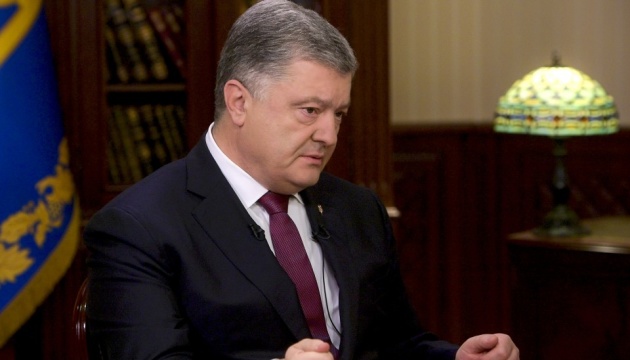 Poroshenko: We must put pressure on Russia to bring it back to civilized world since it is a threat to global security
President Petro Poroshenko expects solidarity with Ukraine from the international community and the organization of pressure on Russia for de-escalation of the situation and the release of Ukrainian sailors.
He stated this in an interview with Sky News, the press service of the head of state reported.
"I have already seen the reaction of U.S. President Donald Trump - he wrote on Twitter that he had made a decision to cancel his meeting with Putin unless he reacted to the request to release the soldiers. I think this reaction means that Putin found himself in total isolation. After the chemical attack in Great Britain, after the terrorist attack on MH17, aggression in the east of my country, after Syria, after all these dreadful things - Putin is in isolation," Poroshenko stressed.
"We have to put pressure to bring Russia back to a civilized world. Because this is a disaster, this is a great threat to global security ... This is a problem not only for Ukraine. We are fighting not only for sovereignty and territorial integrity [of Ukraine] but also for freedom and democracy," the head of state said.
The president stressed that nobody knew where Putin would appear the next day. "Probably Putin may decide to defend Nord Stream 2. Therefore he may decide to attack the Baltic states, Scandinavian states. There are no "red lines" for Putin," he added.
The head of state stressed that in the current situation it was very important to act as a single front - not only leaders, but also nations of the whole civilized world must act together. "This is extremely important for global security," he said.