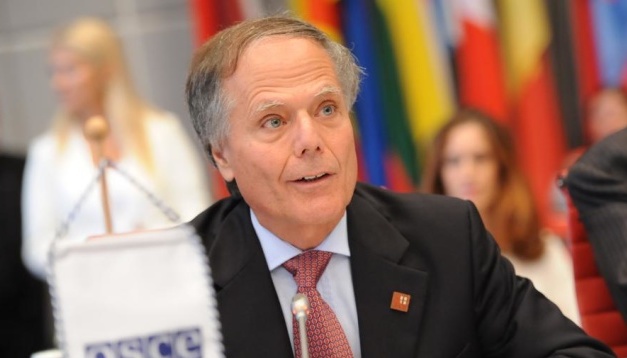 OSCE chairperson condemns upcoming 'elections' in occupied Donbas
OSCE Chairperson-in-Office and Italy's Foreign Minister Enzo Moavero Milanesi has said that the intention to hold the so-called elections in certain areas of Donetsk and Luhansk regions on November 11 contravenes the Minsk agreements and preparations for holding them should be stopped.
A respective statement by the Italian Chairmanship has been published on the OSCE website.
"We are extremely concerned by the announcement of 'elections' due to be held in certain areas of Donetsk and Luhansk [regions] on 11 November. Such a decision would run counter to the letter and the spirit of the Minsk agreements," Moavero Milanesi said.
He reiterated OSCE support to the implementation of the Minsk agreements for "a peaceful solution to the crisis in and around Ukraine, in line with OSCE principles and commitments and in full respect for the sovereignty and territorial integrity of Ukraine."
"We call on all relevant parties to contribute constructively to the negotiation efforts in the Normandy format and in the Trilateral Contact Group in order to prevent such a development," the OSCE chair said.
As was reported earlier, the Russian occupation administration in Donbas scheduled the so-called "elections" in the occupied areas of Donbas for November 11.
Russia officially declared on Tuesday, November 6, that it would recognize the results of the "elections" of Moscow's puppet regimes.
Ukraine's representative in the humanitarian subgroup of the Trilateral Contact Group Iryna Gerashchenko stated that Russia "issued a mandate for a war that it has declared to Ukraine long ago," and the actions of the Russian Federation and its puppets lead to the breakup of political and diplomatic talks in Minsk and the destabilization of the situation on the frontline.
The EU, the United States, G7 and most member countries of the UN Security Council have already condemned plans to hold pseudo-elections in the occupied Donbas.
op