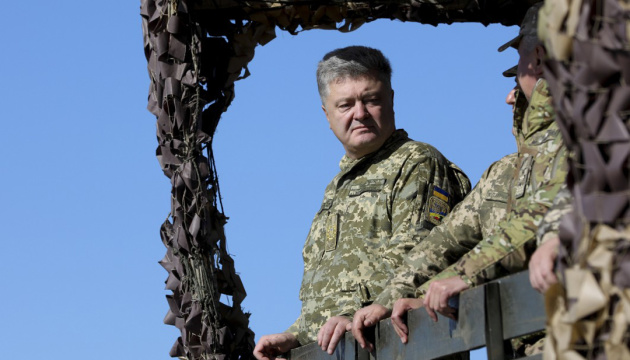 Poroshenko: Ukraine de facto turns into NATO's eastern flank
The world does not deny that the revanchist policy of the Russian Federation against Ukraine has become a challenge to the Euro-Atlantic security, and stable Euro-Atlantic space is impossible without strong Ukraine.
"Nobody will deny now that the Kremlin's revanchist policy against Ukraine has become a common challenge to the Euro-Atlantic security and that stable Euro-Atlantic space is impossible without strong Ukraine, which has already turned de facto into the eastern flank of NATO," President of Ukraine Petro Poroshenko said, speaking at the international conference "The Hybrid War Decade: Lessons Learned To Move Forward Successfully," an Ukrinform correspondent reports.
Russia, being obsessed with the geopolitical ideas, enhances today in the temporarily occupied territory of Donbas and in the annexed Crimea the technologies that go far beyond Ukraine and pose a threat not only to Ukraine, the Head of State noted.
Poroshenko reminded that Russia had used the occupied Crimea as a base for its cruise missiles, tested the cutting-edge weapons and improved the propaganda methods of covering the regular troops in Donbas.
In addition, the President stressed that sometime peaceful Sea of Azov, where there had been no grounds for conflict, was now actively filled with warships, where, according to his data, the Russian Federation practiced a system of blockade of Ukrainian seaports.
The information attacks, attempts to destabilize situation within the country, energy blackmail, complete embargo and closure of market, aggressive imposition of its agenda through the agents in the political, cultural and public spheres, stirring up social conflicts, influence through religious structures are only some of Moscow's tools, which have called "hybrid," he added.
ol