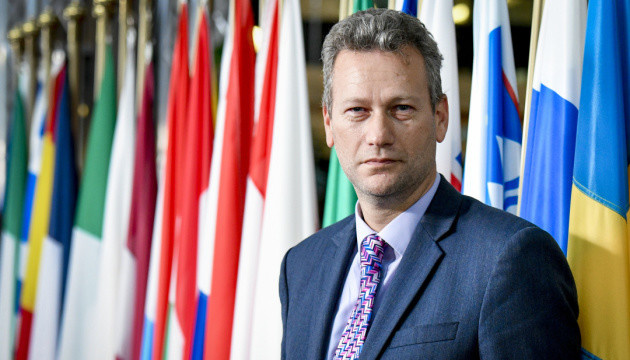 Pro-Kremlin British MEP to defend 112 Ukraine, NewsOne TV channels - EU Today
The 112 Ukraine and NewsOne television channels, which are seeking support from the EU's governing institutions allegedly to protect freedom of speech in Ukraine, have attracted British MEP Nathan Gill to deal with this issue.
Gill is a representative of the UK Independence Party (UKIP), who opposes the European integration of Ukraine and maintains ties with the Kremlin, according to Brussels-based media platform EU Today.
"British Eurosceptic MEP Nathan Gill Weighs In To Defend Pro-Kremlin Media From Action By Ukrainian Parliament," the headline of the article reads.
The author of the article recalls that Gill represents the ultra-right, nationalist UK Independence Party and voted in the European Parliament against EU-Ukraine association, as well as against granting the visa-free regime to Ukrainians. He is a politician who, at the request of two Ukrainian TV channels, wrote a deputy request to EU High Representative for Foreign Affairs and Security Policy Federica Mogherini to raise concerns about freedom of speech in Ukraine.
"Note that Gill is asking the EU to ensure that the terms of the Association Agreement, which he personally voted against, are honored. Astonishing hypocrisy, one might say," reads the article.
According to EU Today, Russian propaganda TV channel Russia Today named UKIP leader Nigel Farage as their "favorite British politician." The feeling appeared somewhat mutual as in March 2014 Farage had described Putin as the world leader he most admires.
As reported, on October 4, the Verkhovna Rada adopted a resolution on the approval of proposals for the application of personal special economic and other restrictive measures (sanctions) against limited liability companies Ariadna TV, Novy Format TV, TV Vybir, Teleradiokompaniya 112-TV, Lider TV, and Partner TV, which are operating under the emblem of the 112 Ukraine TV channel, as well as Novyny 24 Hodyny LLC (the NewsOne TV channel).
The restrictions concern the blocking of assets, the revocation or suspension of licenses and other permits, a ban on the use of radio frequencies in Ukraine, the restriction or termination of provision of telecommunication services and the use of telecommunication networks of general use, etc.
On October 4, Opposition Bloc deputies Oleksandr Vilkul and Nestor Shufrych registered a draft resolution on the abolition of the decision on the adoption of the resolution. In their opinion, the respective decision was taken with a gross violation of the parliament's rules of procedure and the Constitution of Ukraine, in particular through non-personal voting of deputies.
The petition to terminate the anti-Ukrainian activities of the 112 Ukraine and NewsOne television channels, which was published on the website of the Verkhovna Rada on September 20, received in nine days the necessary number of votes for further consideration.
On October 19, Verkhovna Rada Speaker Andriy Parubiy signed a resolution to impose sanctions against companies holding the licenses of the 112 Ukraine and NeswOne television channels and submitted it for consideration by the president.
op