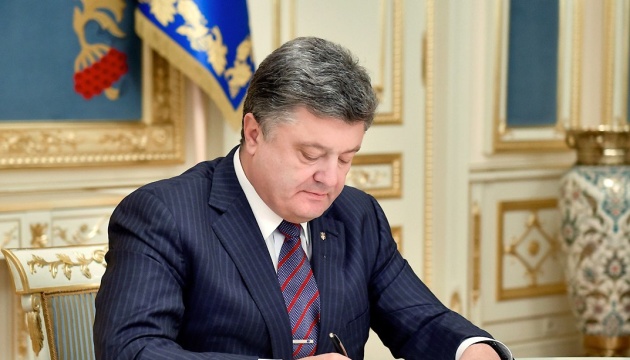 President puts into effect decision of National Defense and Security Council on protection of seas, Donbas
President of Ukraine Petro Poroshenko put into effect the decision of the National Security and Defense Council of Ukraine of October 12, 2018 "On urgent measures to protect national interests in the South and East of Ukraine, in the Black Sea, the Sea of Azov and the Kerch Strait."
This is stated in the presidential decree No. 320 of October 12, published on the website of the Head of State.
As noted in the decision of the National Security and Defense Council, attached to the decree, published on the President's website without certain classified paragraphs and sub-paragraphs, the Cabinet of Ministers of Ukraine shall immediately decide on the procedure of functioning of an inter-agency coordinating body in order to summarize the legal stance of the state on the preparation of a consolidated complaint of Ukraine against the Russian Federation about its international legal responsibility for the armed aggression against Ukraine.
In addition, the Government of Ukraine shall ensure the assessment of impact on environment, the adoption of an appropriate opinion on the fact of environmental pollution in the north of the temporarily occupied territory of the Autonomous Republic of Crimea and the corresponding violation of the environmental rights of Ukrainian citizens.
ol