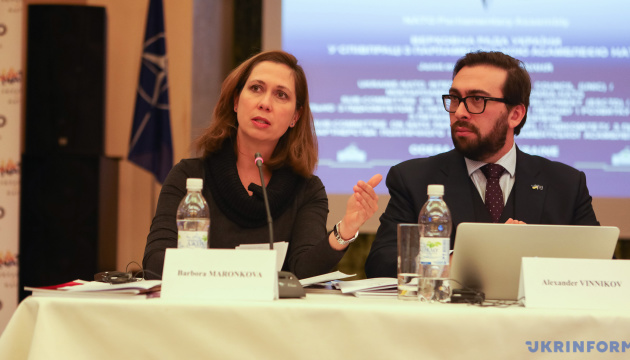 NATO policy towards Russia based on dialogue, defense, deterrence - Maronkova
NATO should find opportunities for dialogue with Russia in order to reduce tensions, but at the same time it should stand firmly by Ukraine, Director of the NATO Information and Documentation Center in Ukraine Barbora Maronkova has said.
She said this in an interview with Ukrinform.
"We also need to continue telling Russia that we do stand firmly by Ukraine. By Georgia, by Moldova, by any other partners, which are being aggressed by Russia in different ways. This is our policy with Russia - of dialogue, but at the same time strong defense and deterrence," Maronkova said.
She also noted that the current phase of NATO-Russia relations was likely to be the worst since the end of the Cold War.
"To relief tensions that are with us in particular areas, for instance, big exercises, or events in the Baltic Sea, or in the Black Sea, in the water, in the air, wherever some collisions would be possible, we need to be able to talk to each other," Maronkova said.
In early October, NATO Secretary General Jens Stoltenberg condemned Russian aggression in Ukraine, but said that the Alliance intends to improve relations with Russia. He also noted that Russia violated the Intermediate-Range Nuclear Forces Treaty (INF Treaty).
Stoltenberg recalled that after years of denials, Russia recently acknowledged the existence of a new missile system called 9M729. He also noted that the Alliance's strategy in relations with Russia was deterrence and dialogue.
op