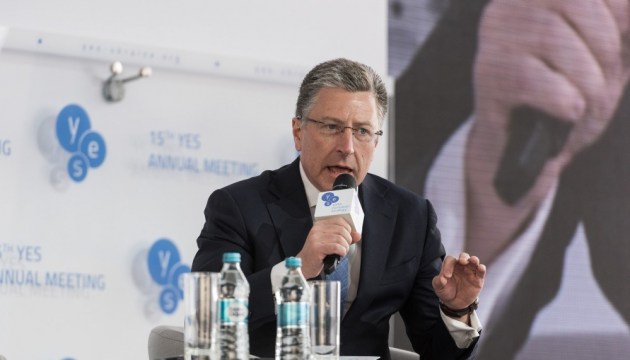 Volker supports Klimkin's ideas on UN peacekeepers in Donbas
The UN peacekeeping mission should create environment of overall security for holding elections for the legitimate local entities in occupied Donbas.
"In the Minsk agreements, one of the key things that needs to happen is for Ukraine to hold local elections [in occupied territories of Donbas]. And there are not elections for the people's republics, they need to go away. Its elections for the legitimate local entities that are there – mayor of Luhansk, mayor of Donetsk, oblast administrations… But the key thing though is getting a peace mission on the ground so that you create an environment of overall security," Special Representative of the U.S. Department of State for Ukraine Negotiations Kurt Volker said in an exclusive interview with UNIAN Ukrainian news agency.
Volker also added he ageed with the ideas recently expressed by Ukrainian Foreign Minister Pavlo Klimkin on the need for police and international administration within the framework UN peacekeeping mission.
"I agree that there needs to be something on the idea of policing. The local police in towns and cities seem to be quite competent. But you have the armed militias that have been there for the past few years. And as those go away you may need some coordination, probably from the OSCE, with the local police services," the diplomat said.
At the same time, Volker expressed doubt about the current prospects for sending UN peacekeeping mission to Donbas, because Russia "is the one that has still not moved its position and is not ready to agree."
"I think very basically, because they don't want to. They want to keep the conflict alive. They want to keep their forces there. They want to keep two so-called people's republics in place as political entities that they can use as the shield to obscure Russia's direct involvement," Volker said.
ol