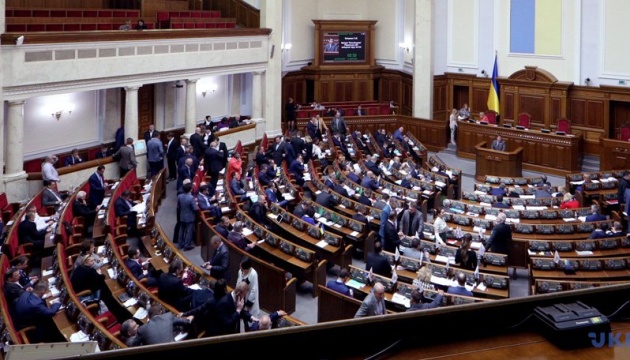 Parliament passes bill on Ukrainian language at first reading
The Verkhovna Rada has adopted at first reading the bill No. 5670-d on ensuring the functioning of Ukrainian as a state language.
The document proposes creating the national commission on state language standards and the institution of the envoy for the protection of the state language.
A total of 261 deputies supported this decision at a plenary meeting of parliament on Thursday, an Ukrinform correspondent reports.
While presenting the bill, Chairman of the Verkhovna Rada Committee on Culture and Spirituality Mykola Kniazhytsky said that the committee at a meeting on October 3 brought the document into line with the laws passed after its registration, in particular, the laws on education and on television and radio broadcasting. He read out a transcript of the amendments to the bill, which were supported by deputies during the vote for the bill.
On February 28, 2018, the Constitutional Court of Ukraine declared unconstitutional the July 3, 2012 law on the principles of the state language policy (the so-called law of Kolesnichenko-Kivalov) because of violations of the procedure of its adoption by people's deputies. The law, in particular, provided for the possibility of official bilingualism in regions where the number of national minorities exceeded 10%.
The bill 5670-d on ensuring the functioning of Ukrainian as a state language was registered on June 9, 2017. The bill was supported by Deputy Prime Ministers Pavlo Rozenko and Viacheslav Kyrylenko, Culture Minister Yevhen Nyshchuk, and Verkhovna Rada Chairman Andriy Parubiy.
op