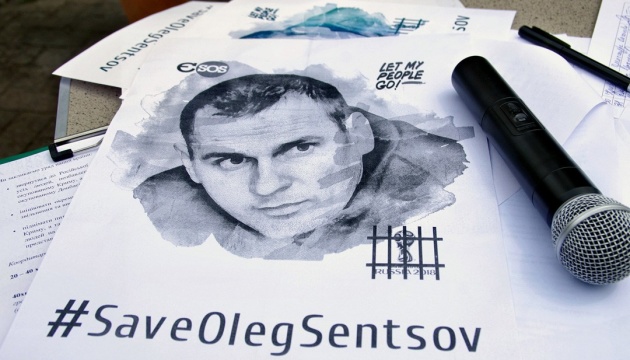 French actress Isabelle Huppert speaks in support of Sentsov
French actress Isabelle Huppert has voiced her support for Ukrainian film director Oleg Sentsov, who was illegally convicted in Russia.
Director Christophe Ruggia posted Huppert's photo on his Facebook page.
"Isabelle Huppert calls for the immediate release of Oleg Sentsov and other Ukrainian political prisoners held in Russia," the director wrote.
As Ukrinform reported, Sentsov was detained by Russian security services in Crimea in May 2014.
He was sentenced to 20 years in a penal colony in Russia for alleged "plotting acts of terrorism."
On May 14, 2018, he declared a hunger strike demanding the release of all Ukrainian political prisoners of the Kremlin.
According to his lawyer Dmitry Dinze, who visited the prisoner on September 7, Oleg Sentsov finds it hard to get out of bed, as his health condition has deteriorated.
The Council of Paris unanimously supported the granting of the title of honorary citizen of Paris to Oleg Sentsov.
ish