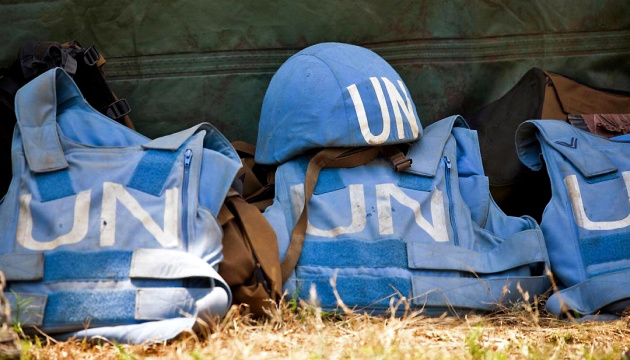 Ukraine, three more countries to submit resolution on peacekeepers in Donbas to UN - Klimkin
Ukraine and its international partners, in particular the United States, France and Germany, are preparing to submit to the UN Security Council a draft resolution on the deployment of a United Nations peacekeeping force to Donbas.
Ukrainian Foreign Minister Pavlo Klimkin said this on the sidelines of the UN General Assembly on Wednesday, an Ukrinform correspondent reports.
"We have agreement with our friends - the United States, Germany, and France. Yesterday, I once again spoke with [German Foreign Minister] Heiko Maas, with Secretary of State Mike Pompeo. We will submit a joint resolution," Klimkin said.
He specified that a joint draft document would be submitted. "For this purpose, it is necessary to continue pressuring Russia, because it tries to beat off any genuine peacekeeping operation," the minister said.
In this regard, he drew attention to the importance of not only having the military component of the UN mission in Donbas but also introducing an international administration and a police component. "Otherwise, Russia will continue to strive to manage the occupied territories, and the whole idea of the Russian so-called 'peacekeeping operation' is to begin the process of regionalization and federalization of Ukraine," Klimkin said.
Klimkin stressed that he constantly explains that to international partners: "Russia's goal is not Donbas. Russia's goal is Ukraine."
He also stressed that real positive changes for Ukrainian citizens in Donbas could be made only after actual de-occupation under international control.
The minister noted that he had discussed with his foreign colleagues not only the armed aggression of Russia but also all hybrid threats. "It concerns both cyber threats and energy threats. We discussed in detail what we will do with Nord Stream," he said.
According to him, in these talks "there really was a unity of thought on all issues where I felt the support, especially support not only in terms of statements but also in terms of actions that will be done by allies together with us."
op