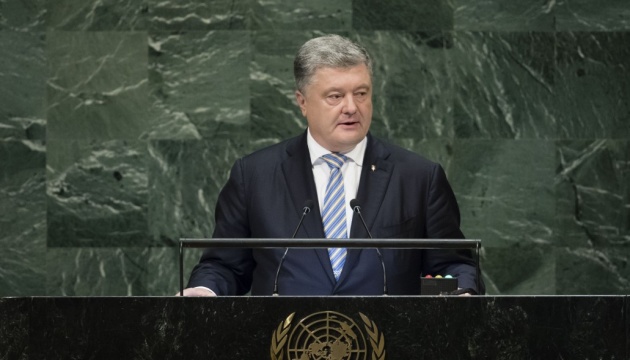 Poroshenko urges UN to respond to Russia's militarization of Crimea
Ukrainian President Petro Poroshenko has called on the UN General Assembly to promptly react to Russia's militarization of the Crimean peninsula.
He said this in the session hall of the UN General Assembly in New York on Wednesday, an Ukrinform correspondent reported.
"Under Russian occupation, Crimea has turned into a military stronghold threatening security and stability in the entire wider Black Sea region. We believe that increasing militarization of Crimea deserves the General Assembly's close attention and prompt reaction," Poroshenko said.
He stressed that Russia's aggressive policies as well as its arrogance in using lethal weapons multiply the threat. In this regard, Ukraine counts on the UN General Assembly's active support for the relevant resolution during this session, he added.
Poroshenko emphasized that Crimean Tatars and Ukrainians had been exposed to repressions since the beginning of Russia's annexation of Crimea.
"Since the first day of the illegal occupation of Crimea, Crimean Tatars and ethnic Ukrainians have faced repressions and discrimination. There are many cases of murders, tortures, harassment and arrests under fabricated charges," he said.
The head of state noted that the list of hostages and victims of the Russian occupation regime in Crimea is getting longer almost every day.
"The Ukrainian and Crimean Tatar identities seem to be a criminal offence in today's reality of the occupied peninsula," Poroshenko said.