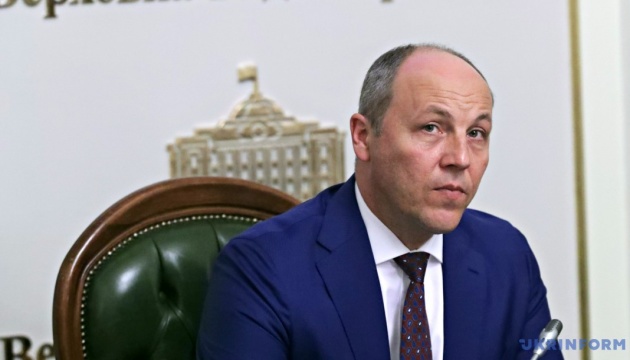 Parubiy urges Norwegian parliament not to support Nord Stream 2 construction
Speaker of the Verkhovna Rada of Ukraine Andriy Parubiy called on the Norwegian Parliament not to support the construction of Nord Stream 2 as it is an aggressive energy project by Russian President Vladimir Putin.
He stated this at a joint briefing with President of the Storting [Norwegian Parliament] Tone Wilhelmsen Trøen, an Ukrinform correspondent reported.
"During the conversation [with a delegation of the Norwegian Parliament], I raised the issue of Nord Stream 2 and called on the Norwegian Parliament to show solidarity regarding the rejection of the construction of the Nord Stream 2 pipeline as Putin's aggressive energy project aimed at increasing energy pressure on Europe," Parubiy said.
The speaker also noted that he had discussed with the head of the Norwegian Parliament the need for increased cooperation in the areas of cyberattacks and information attacks faced by Ukraine and the entire world.
In addition, the parties agreed on an increase in cooperation between Ukraine and Norway in humanitarian and cultural sectors.
In turn, Tone Wilhelmsen Trøen assured that the Norwegian Parliament firmly supported the reform process carried out in Ukraine.
As known, Nord Stream 2 is a project on the construction of a gas pipeline from Russia to Germany, bypassing Ukraine across the Baltic Sea. Gazprom owns 51% of shares. Russia wants to build two lines of the gas pipeline (up to 55 billion cubic meters a year). The Baltic States, Poland, Ukraine, as well as the United States, actively oppose the project. In particular, on April 5, the Verkhovna Rada of Ukraine called on the world not to support the construction of Russia's Nord Stream 2.
ish