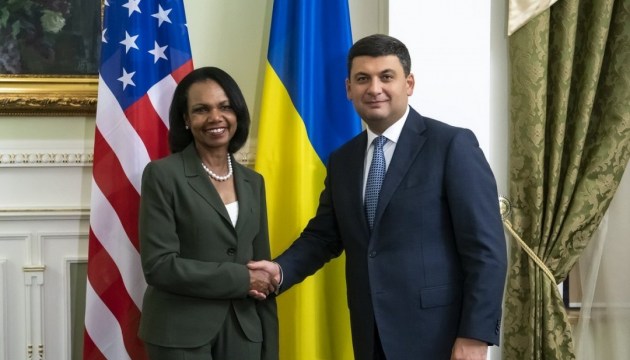 Groysman tells Condoleezza Rice about changes in Ukraine
Ukrainian Prime Minister Volodymyr Groysman held a meeting with former U.S. Secretary of State Condoleezza Rice on Friday evening.
"We have very interesting discussions ahead, especially about the threats we face. We have internal challenges, external threats, and we appreciate the U.S. policy of supporting our sovereignty. We must build a democratic and secure future together. We've got on the path of changes. The challenges are serious. It's time to make firm decisions," Groysman said, the Government portal reports.
Ukraine is on the path of changes and this time requires firm decisions. In order to conquer the challenges we have to be strong, patient and full of support, including from our strategic partners. Discussed these topics with a former U.S. Secretary of State @CondoleezzaRice

— Volodymyr Groysman (@VGroysman) 14 сентября 2018 г.
In turn, Condoleezza Rice noted that she had visited Ukraine for the first time back in 1979.
"I realized how much needed to be done, how difficult it would be, especially in the context of building democracy. I even wrote a book about the development of democracy. This process requires strength and patience. However, I think that the US is a support for Ukraine. I'm glad we have strong ties, and they need to be supported - at different levels and in different spheres. I see your commitment to the reforms and I think that the US will be an important partner and support for you," she said.
Condoleezza Rice takes part in the 15th Yalta European Strategy (YES) Annual Meeting held in Kyiv on September 13-15.
ol