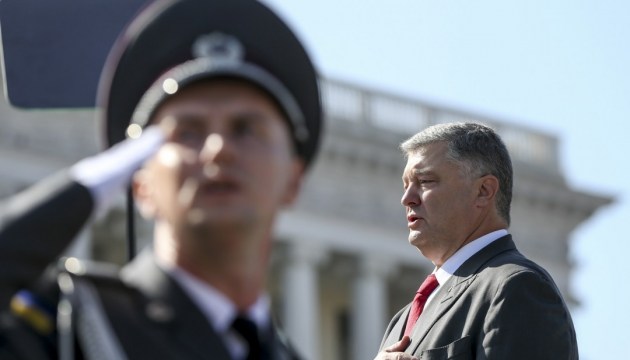 Military parade on occasion of Ukraine's Independence Day. Video
A military parade on the occasion of the 27th anniversary of Ukraine's Independence has started in Kyiv.
About 4,500 servicemen of the Armed Forces of Ukraine, the National Guard, the Internal Ministry, the State Emergency Service, and the veterans of the Anti-Terrorist Operation take part in the military parade, an Ukrinform correspondent reports.
For the first time, servicewomen participate in the parade.
A total of 250 units of military equipment, including of domestic production, are demonstrated during the parade. Army aviation - about 30 fighters, ground attack aircraft, transport aircraft and helicopters participate in the parade for the first time in recent years.
Eighteen foreign delegations take part in the military parade.
The parade is attended by President Petro Poroshenko, President Donald Trump's National Security Adviser John Bolton, representatives of the Defense Ministries of Austria, Azerbaijan, Great Britain, Georgia, Denmark, Sweden, Estonia, Latvia, Lithuania, Canada, Moldova, Poland, Romania, Slovakia, Czech Republic, Federal Republic of Germany and Montenegro.
A total of 15,000 law enforcement officers maintain public order on the Independence Day.
ish