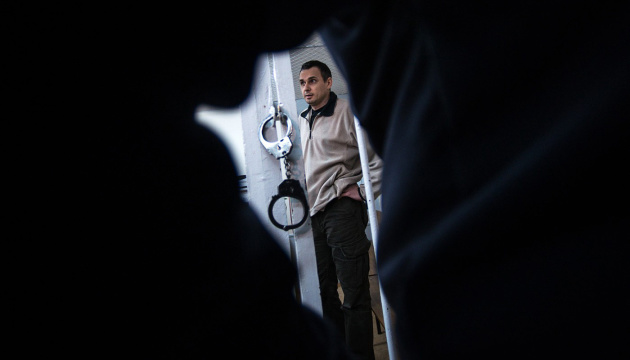 The 100th day of Oleg Sentsov's hunger strike marked today
Today is the 100th day since the beginning of the indefinite hunger strike of Ukrainian film director Oleg Sentsov, announced on May 14, 2018, demanding the release of all Ukrainian political prisoners of the Kremlin.
Over the past 100 days, 42-year-old Sentsov lost about 30 kg. Sentsov has problems with his kidneys and heart, Ukrainian Human Rights Commissioner Liudmyla Denisova said after talk with his lawyer.
PEN International is planning to mark the 100th day of Oleg Sentsov's hunger strike with an event at Russia's Embassy in London on August 21.
In Kyiv, on August 21, the action "Solidarity with Oleg Sentsov" will be held near the Russian Embassy.
On May 11, 2014, Sentsov was detained by the Federal Security Service of the Russian Federation in Crimea. Later he was taken to Moscow, to a detention facility in Lefortovo. The film director was charged with terrorism and illegal possession of weapons. In the materials of the trumped-up case he was called the organizer of a subversive and terrorist group.
In August 2015, Sentsov was sentenced to 20 years of imprisonment in a high-security penal colony. In February 2016, he was taken to Yakutia, and from November 2017, Oleg Sentsov began to serve his term in the White Bear penal colony in Labytnangi (Yamalo-Nenets Autonomous District).
On August 8, his sister, Natalia Kaplan, said that Sentsov's health was catastrophic.
Russian human rights activist Zoya Svetova visited Oleg Sentsov in a penal colony in Labytnangi. He said that his condition is now "pre-critical."
UN experts called on Russian authorities to immediately and unconditionally release Ukrainian film-maker Oleg Sentsov while expressing grave concern for his physical and mental integrity.
About 70 Ukrainian political prisoners are currently held in Russia and in the occupied Crimea.
ish