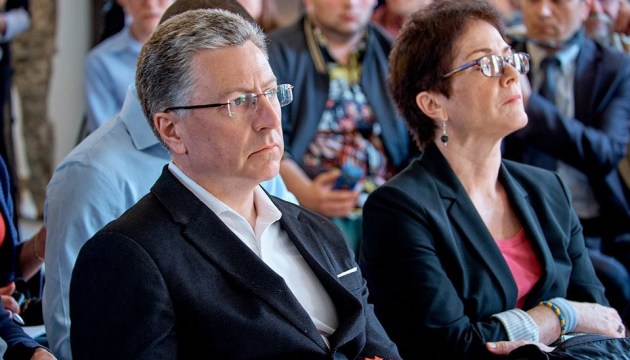 Volker: Ukraine should extend law on special status of Donbas
U.S. Special Representative for Ukraine Negotiations Kurt Volker believes that Ukraine should extend the law on special status of Donbas.
"I understand the disappointment of Ukrainian legislators and society. They took the necessary steps, such as the adoption of this law on the special status and the amnesty law, but Russia did nothing to end the conflict and withdraw troops," Volker said in an interview with the Voice of America.
In his opinion, the law was adopted but not applied.
"Currently, there is no special status. It will work only when certain agreements are reached, when Russia withdraws troops and local elections are held," the U.S. special envoy added.
However, he believes that termination of the law will do more harm than its continuation.
"I do not see any harm in continuation of the law. Nothing will change from today and till the day the law is extended. I do not think it is harmful. However, Russia will use the suspension of the law as a reason to accuse Ukraine of non-compliance with the Minsk agreements. So, do not give Russia this argument. The continuation of the law will not really change anything," Volker believes.
Volker believes that it would be logical for Ukraine to continue to exert pressure on Russia and prevent it from using the suspension of the law against Ukraine.
As reported, in September 2014, the Verkhovna Rada of Ukraine adopted the law on special status of Donbas. The document defines a temporary procedure for organization of local self-government, activities of local authorities in certain districts of Donetsk and Luhansk regions. The special order in these territories was introduced for three years.
In October 2017, the Verkhovna Rada adopted a law to continue the special status for a year.
ol