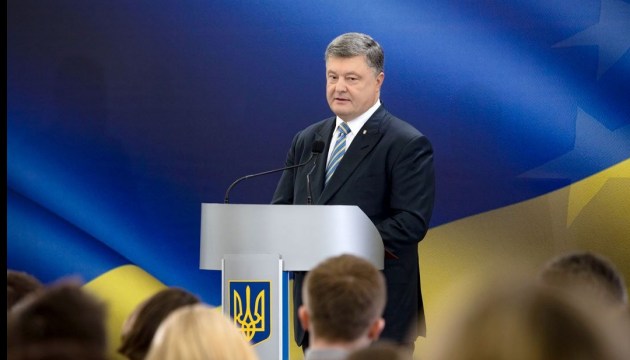 Autocephaly a matter of Ukraine's independence, national security - Poroshenko
Ukrainian President Petro Poroshenko has said that autocephaly for Ukraine has not been guaranteed yet and that it is necessary to pray and fight for it.
He wrote this on Twitter and posted a video.
"Autocephaly is a matter of our independence and our national security, and this is why such a fierce resistance comes from Moscow and its fifth column in Ukraine," Poroshenko said at a meeting with the Greek Catholics, which took place in Ternopil region on July 15.
At the same time, he stressed that in order to receive a Tomos, it is necessary to pray and fight.
"We do not have to believe that Tomos is in our pocket. We should pray and fight for it," Poroshenko said.
As reported, President Poroshenko said on April 17 that he had prepared an appeal to the Ecumenical Patriarch with the request to issue a Tomos about autocephaly for the Orthodox Church in Ukraine.
On April 18, the head of state officially accepted from the hierarchs of the Ukrainian Orthodox Church (Kyiv Patriarchate) and the Ukrainian Autocephalous Orthodox Church a relevant appeal for transfer to Ecumenical Patriarch Bartholomew, with the signatures of all the bishops who supported this decision.
On April 19, the Verkhovna Rada adopted a resolution to support the president's appeal to Ecumenical Patriarch Bartholomew to establish a single local Ukrainian Orthodox Church.
On April 22, Poroshenko reported the transfer of relevant appeals to the Ecumenical Patriarchate and the beginning of the procedures needed to grant autocephaly to the Ukrainian Orthodox Church.
The president also expressed hope for a positive decision of the Synod on issuing a Tomos to Ukraine ahead of the 1030th anniversary of the Christianization of the Kyivan Rus, that is before July 28.
The Russian Orthodox Church, in turn, strongly opposed such an initiative by Ukraine.
op