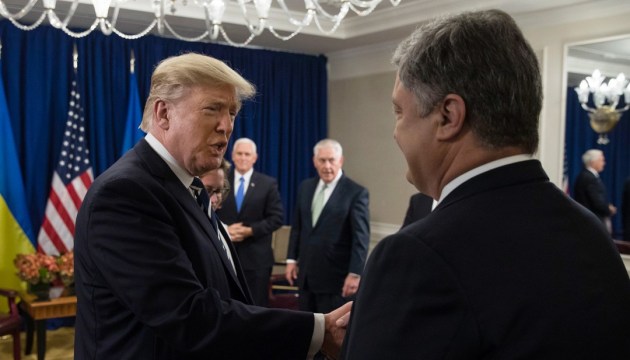 Poroshenko speaks about conversation with Trump
Ukrainian President Petro Poroshenko has discussed with U.S. President Donald Trump the latter's upcoming meeting with Russian President Vladimir Putin, the issue of the Nord Stream 2 gas pipeline and reforms in Ukraine.
He stated this at a press conference in Brussels on Thursday, according to an Ukrinform correspondent.
"I was curious about the leak of information that my meeting with the U.S. president was allegedly canceled. We have really very thoroughly discussed President Trump's next meeting in Helsinki on Monday, July 16. Nord Stream 2 issues were thoroughly discussed," Poroshenko said.
In addition, Poroshenko said that during "Ukraine's achievements in advancing reforms" had also been emphasized at the meeting with Trump.
At the same time, he said that he had 15 bilateral meetings in Brussels.
On July 11-12, 2018, Poroshenko was on a visit to Belgium where he participated in the NATO summit at the invitation of NATO Secretary General Jens Stoltenberg.
op