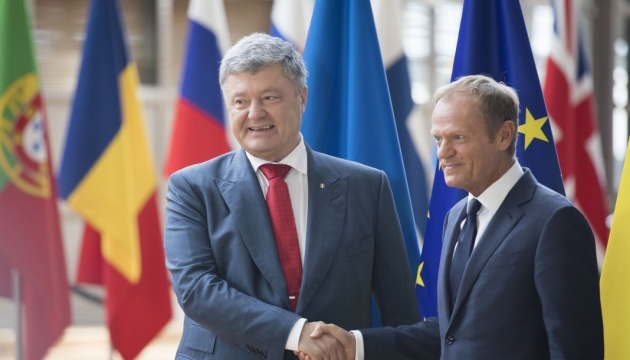 Ukraine not going to slow pace of reforms - Poroshenko to EU leaders
Ukrainian President Petro Poroshenko has assured EU leaders that Ukraine has implemented more reforms over the past four years than in all previous years of its independence, and is not going to reduce their pace.
He stated this at a joint press conference with European Council President Donald Tusk and European Commission President Jean-Claude Juncker in Brussels on Monday, according to an Ukrinform correspondent.
"During the last four years Ukraine has managed to implement more reforms than during the whole period of its independence. Some of them, I believe, would be a suicide even for most of the EU governments. I assured our European friends that we have no intention to slow down the reforms," Poroshenko said.
The Ukrainian president thanked European partners for supporting Ukrainian reforms, noting that all progress achieved by Ukraine in recent years would have been impossible without their "strong support."
However, the head of state added that, despite the achievements, Ukraine and the EU "share a common vision" of deepening bilateral relations based on sectoral integration.
As reported, the 20th EU-Ukraine summit takes place in Brussels (Belgium) on Monday, July 9. The summit is dedicated to discussing the implementation of the EU-Ukraine Association Agreement, including the establishment of a deep and comprehensive free trade area, and prospects for further deepening Ukraine's sectoral integration in the areas of the digital market, energy union, customs, justice and home affairs.
op