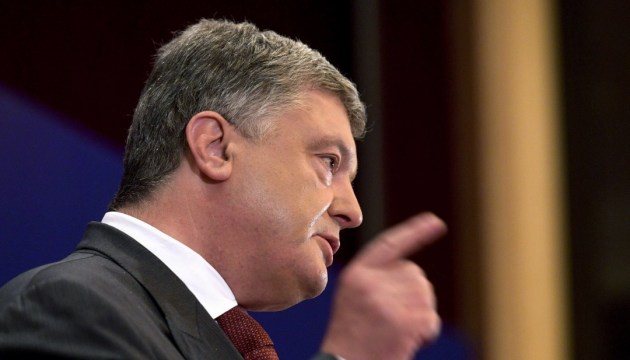 Ukraine opposes politicization of Ukrainian-Polish history - Poroshenko
Ukraine opposes the politicization of tragic pages of Ukrainian-Polish history and is counting on amendments to the law on the Polish Institute of National Remembrance in the part concerning Ukrainians.
President Petro Poroshenko said this in the Polish village of Sahryn at the opening of the memorial of remembrance of Ukrainians who were killed by Polish "peasant battalions" and units of the Home Army in 1944, according to an Ukrinform correspondent.
"We are against unilateral political assessments of the common historical past, because they do not contribute to the process of our historic reconciliation. We support initiatives to revise well-known changes to the Polish legislation on the Institute of National Remembrance, and we expect that the provision concerning assessment of Ukrainians will also be revised. We support a professional dialogue at the level of historians and oppose the politicization of sensitive issues of the common historical past," he said.
He said that "scary pages" of the joint Ukrainian-Polish past should not be decisive for the present and for the common European future of both states.
Poroshenko also called on Ukrainians and Poles "to remember the innocent victims of Sahryn" to show reciprocal Christian forgiveness, rather than revenge.
"Both in Ukraine and in Poland, the memory of every tragically lost life has to cool down the hot heads of those who tend to attach labels, those who incite hatred, those who call for revenge," he said.
At the same time, he recalled that the Ukrainian and Polish peoples are united by the commonality of cultures, traditions, proximity of languages, and the experience of joint struggle for their own freedom against foreign oppressors, against imperial and totalitarian regimes.
op